What are the Different Types of Ceiling Beams?
Builders install structural ceiling beams in parallel rows to support the roof and walls of a building. The most basic types of ceiling beams are used only for structural support, and are generally hidden from view with drywall or ceiling tiles. For a more dramatic look, these beams may be left exposed to create a beautiful addition to the rooms below. Homeowners can choose from many styles of ceiling beams to match almost any decor, from traditional to modern.
Heavy timbers can be used to create a log-cabin style design. Made from cedar, pine, and other types of wood, these beams lend a rustic feel to a room. The beams may be arranged in standard rows, or framed in a cathedral style design. In some applications, drywall is installed on the ceiling to fill the space between each beam. In older buildings, white plaster may be installed between each beam so that only the lower half of each beam is left exposed. This type of look is often recreated using salvaged or reclaimed lumber.
For a modern, industrial design, builders may use steel ceiling beams to frame a room. These include I-beams and metal joists, which create a distinct appearance in lofts and commercial buildings. Steel ceiling beams can be left bare or painted to meet the demands of building owners. In this type of application, pipes and duct work are often left exposed along with the steel beams.
Faux beams can help homeowners recreate the look of exposed beams without the hassle and expense of remodeling. These fake ceiling beams consist of plastic or urethane with a hollow interior. They may be finished to mimic traditional wooden beams or even steel. Faux ceiling beams simply screw to the existing ceiling framing, and can be painted or stained to match the surrounding decor. These beams offer a quick and economical solution for those who want to add exposed beams to a room.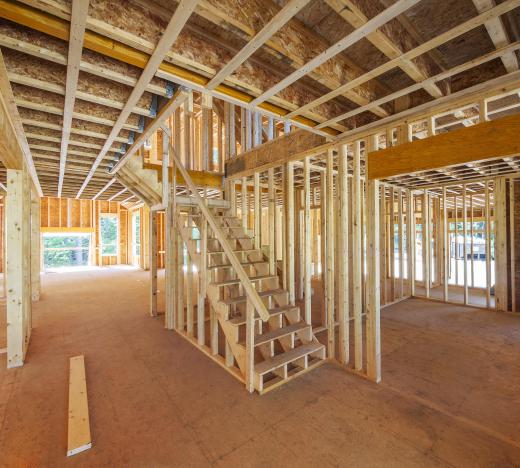 The most popular and widely used ceiling beams consist of standard wooden lumber components. Some builders may also use composite alternatives made from plastic laminate, which offer benefits like added strength and moisture resistance. These materials are chosen for their strength and low cost rather than their appearance. They are often arranged to ensure that all heating, air conditioning, and plumbing components will fit within the available ceiling space. Standard lumber beams are then hidden behind drywall or dropped ceilings.
AS FEATURED ON:
AS FEATURED ON:

Steel I-beam.

By: Adrian Hillman

Exposed wood ceiling beams are associated with a chalet-style house.

By: Christian Delbert

One of the most popular cuts of lumber for home building is the two-by-four, which actually measures 1.5 inches high by 3.5 inches wide.

By: sattriani

Buildings often use steel beams to supports the walls and roofs.