What are the Different Types of Ceiling Access?
The different types of ceiling access are access doors, access panels, attic hatch, ceiling tiles, and pull-down stairs. Ceiling access allows service professionals to work on air conditioning or heating units. Construction workers may also need to gain ceiling access to lay insulation and repair roofing. Wiring for overhead lighting often requires electricians to work from above the ceiling to install fans or lighting.
Access doors are most common in commercial buildings. The door may lead to boiler rooms or large scale air conditioning units that are mounted on the roof. Ceiling access to these doors is typically secured with a lock so only authorized personnel can enter. Security measures are employed to prevent injury in the event someone fell.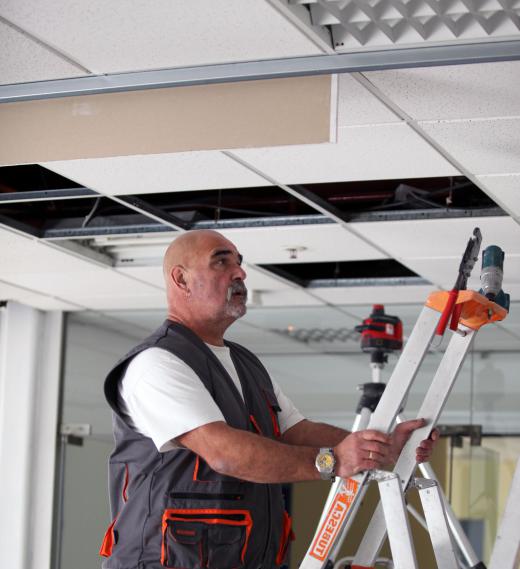 Access panels are also more common in commercial buildings than personal residences. Ceiling access via an access panel is used to enable electricians to work with fuse boxes mounted in the ceiling. Other uses for access panels are to hide ceiling sound systems and air conditioning filters. The panel is mounted in the ceiling with a metal frame, and hooks keep the panel in place. When the filter needs to be changed, the hooks are unlatched, the panel removed, and the dirty filter thrown away.
Ceiling access through an attic hatch is often found in residential buildings. Normally constructed of plywood, the access hatch is built to fit inside a wooden frame. When access to the ceiling area is needed, the service professional will place a ladder directly under the hatch, climb until the hatch can safely be pushed up, then slide the hatch to the side. When work is finished, the hatch is pulled back into place.
Ceiling tiles work much the same way as an attic hatch. The main difference are ceiling tiles are placed in a grid that covers the entire ceiling. Also known as drop or suspended ceilings, the ceiling tiles are lower than the main ceiling of the building. The space between the main ceiling and the suspended ceiling is used for air conditioning duct work, sprinkler systems, or electrical wiring.
Pull-down stairs are another method of ceiling access. An access hatch is built into the ceiling but instead of requiring a ladder to reach, stairs are attached to the hatch. A string dangles from the bottom side of a hinged hatch, which can be pulled to expose folded stairs. The stairs are then unfolded and placed on the ground. This method of ceiling access is mostly used for residential buildings and provides access to ceiling storage.
AS FEATURED ON:
AS FEATURED ON:

By: auremar

The space between the main ceiling and a suspended ceiling is used for air conditioning duct work, sprinkler systems, or electrical wiring.