What Are the Different Types of Bedroom Wardrobe Doors?
Although the famous bedroom wardrobe of the Penvensie children that C. S. Lewis wrote about in The Lion, the Witch, and the Wardrobe featured a looking glass in the door, his private one was plainer. From inexpensive ones like C.S. Lewis' to more expensive ones like the Penvensie children's, there is a large selection of bedroom wardrobe doors for free-standing armoires or built-in closets. Manufacturers build doors out of a variety of materials, including wood, plastic, and glass. A person may choose pre-made painted doors, mirrored doors, or doors covered with a wood veneer or may choose to have custom-made or bespoke doors designed specifically for a bedroom.
Many wardrobe doors are solid wood or hollow core with a wood veneer covering. Generally, companies offer these doors in a variety of woods. Oak, birch, and ash are popular light-colored woods, while walnut and some dark-colored exotic woods are popular for darker selections. Wood doors may have plain, undecorated fronts or may have raised panels. Often people buy bedroom wardrobe doors that match the architectural details of the bedroom, such as Victorian or contemporary design.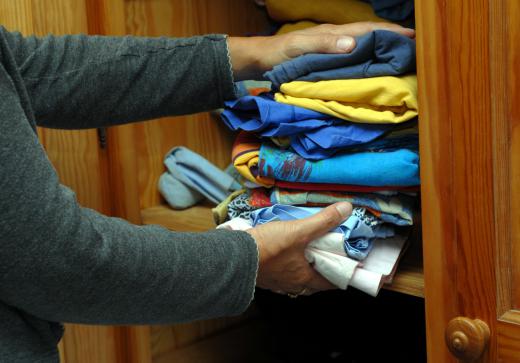 A wall of mirrored closet doors may add a dramatic effect to a room. Mirrored bedroom wardrobe doors are functional as well as decorative. Some armoires feature a mirrored panel in a door, similar to the style of the Penvensie wardrobe. Buyers usually can select framed or unframed mirrored doors, and each style has a distinctive look. Usually, to protect their customers, manufacturers use tempered safety glass for glass panels or mirrors.
Some glass panels and mirrors feature designs, while others are plain. Designers may etch, frost, or paint the glass surface. Other options include using tinted or colored glass. Clear glass doors allow the wardrobe's contents to be visible, while decorated glass or mirrors generally conceal the contents.
Contemporary bedroom wardrobe doors vary from sleek-looking foil veneer to very high-gloss paint or plastic surfaces. These are generally available for armoires and closets. The metallic finishes may be silver, gold, or other popular metals. Most manufacturers offer them as a highly polished surface or as a textured surface, such as brushed or etched metal. Often designers use wood or metal, such as aluminum or steel, to frame glass, plastic, and other door panels.
Painted bedroom wardrobe doors are available in a variety of finishes, from matte to super high gloss. Most companies offer gloss or high-gloss finishes, but others offer a harder, shinier gloss that has a mirror-like surface. A buyer should research different companies' selections to find the finish that will enhance the bedroom's décor. Colors range from deep aubergine to pastel green and almost all colors in between. Generally, any color and finish are available for bespoke doors.
Sometimes a person wants to change his or her bedroom wardrobe doors, especially if the doors no longer reflect the style of the bedroom. Many companies offer replacement doors. Doors are available in a large range of styles and types. They may be sliding, hinged, or bi-fold, depending on the type of wardrobe.
AS FEATURED ON:
AS FEATURED ON:

By: Richard Villalon

Access is perhaps the most important advantage of hinged wardrobe doors.

By: Paul Maguire

Wardrobe doors are typically made from the same material that is used on the body of the wardrobe.