What Are the Different Types of Bedroom Wall Decals?
Bedroom wall decals are an easy way to change the look of a bedroom. They come in a wide array of sizes from small, coin-sized decals to large murals that can take up an entire wall. Also called wall stickers or wallies, these decorating accents can be found in a large assortment of themes appropriate for any bedroom including floral, shapes, letters, and sayings. Most wall decals come in many different color choices.
The majority of bedroom wall decals are vinyl. They can be applied to smooth painted surfaces, making them a good choice for bedroom walls. In addition to walls, decals can be used to decorate bedroom furniture, doors, and windows. The application process is relatively simple and when the room is ready for a makeover, the decals are easily removed without damaging the surface underneath.
Decorative wall stickers can be found in just about every theme. Nautical, floral, Zen and animal prints are just a few examples of the large selection available for adult rooms. For children's rooms, bedroom wall decals featuring butterflies, ladybugs, princesses, and horses are available for girls' rooms. Boys' room decals include dragons, skateboards, cars, and fire trucks. Letters decals are another option and can be used to form a child's name or initials on the wall.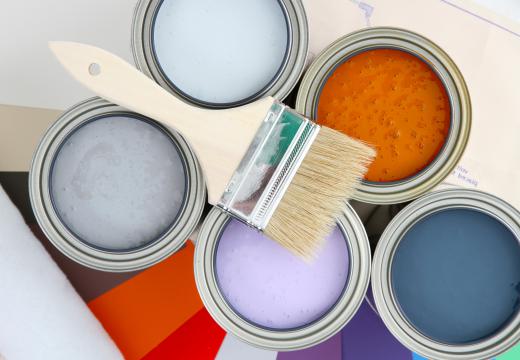 Peel and stick growth chart wall decals can be hung in a young child's room and used to chart their growth progress. These decals come in many themes, making it easy to find one to match the child's room decor. A specially coated blackboard wall decal has a blackboard finish for writing notes or playing games in kids' rooms. For older children or adults, a wall calendar decal can be placed in the bedroom to keep track of schedules, meetings, and important dates.
Wall borders have always been a popular way to enhance a decorating scheme or create a theme for a room. Bedroom wall decals are also available as wall borders, which are easily applied to the wall without using glue or pre-pasted borders. Animal print decals are a unique way of decorating entire bedroom walls. By painting the wall a solid color and using animal print decals, a room can be given a zebra, leopard, or cheetah theme.
Large bedroom wall decals, such as trees, autos, animal shapes, or figures take up a large portion of the wall. Full wall murals can also be applied to walls, using the convenient peel and stick feature of wall decals. Murals are available in a multitude of themes, scenes, and pictures and also come in assorted sizes.
AS FEATURED ON:
AS FEATURED ON:

By: Claudio Divizia

Many people hang calendars on their bedroom walls.

By: Rob

Paint may be used to apply wall decor letters.