What are the Different Tomato Varieties?
No matter how the name is pronounced, a tomato can come in many varieties with a wide range of sizes and colors. Tomatoes were yellow- and orange-colored at the beginning of tomato cultivation, with the color red becoming more prevalent through many years of breeding. There are hundreds of different types of tomatoes in colored varieties including red, orange, yellow, white, green, purple, and black. Some tomatoes, like Heirloom and cherry, come in many varieties, as well.
Many people consider red tomato varieties the most popular, including Beefsteak and Roma tomatoes. When many people think of the taste of a tomato, they relate it to the flavor of this variety. Pink varieties have similar flavors to the red ones, but some consider them to be less vibrant. Some pink types include Pink Girl and Brandywine.
Orange tomato varieties include Persimmon and Mountain Gold. This type typically is sweeter than red tomatoes and usually tastes more like fruit due to the higher sugar content. Yellow varieties are similar to the orange type and usually are less tangy than red tomatoes. This tomato variety includes Golden Boy and Garden Peach. Green tomato varieties ripen green and usually have lower acidic values than red tomatoes.
Some rare varieties are white tomatoes, which typically are the lowest in acidic content of all tomatoes and are considered bland by some people. They include Ghost Cherry and Snow White. Purple and black tomato varieties usually have a more robust and smoky flavor than red tomatoes, and include Cherokee Purple and Black Krim.
In most of the colored varieties, there also are variations between open-pollinated or hybrid tomato plants, as well as determinant or indeterminate growth patterns. Open pollinated varieties keep the characteristics of the parent plant every year. Taking pollen from one pollinated tomato and putting it into a different already-pollinated tomato typically creates a hybrid tomato variety.
Determinant tomato varieties usually have compact bushes or plants, and typically stop growing when the fruits ripen. Their tomatoes tend to ripen around the same time period, usually a two-week period, and they then die. Some people call the indeterminate varieties vine tomatoes. They are known to continue growing and producing fruit until frost kills them, and the fruit blooms at all times during the season.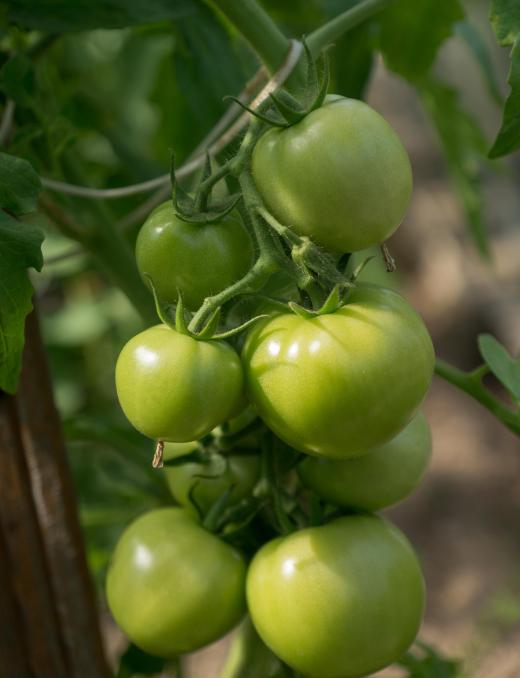 When planning to grow tomatoes in a vegetable garden, many people research what type of variety grows best in their region. They plant several types of tomatoes in the same garden to see which types grow and taste better. There are many varieties to choose from and many places to buy seeds, including numerous online resources.
AS FEATURED ON:
AS FEATURED ON:

By: martinlee

Yellow tomatoes.

By: haru

A caprese salad, which includes red tomatoes.

By: Dusan Kostic

Red tomatoes have become more prevalent through many years of breeding.

By: rolaleksandr

Green tomatoes are less acidic than red tomatoes.

By: MediablitzImages

Green zebra tomatoes are characterized by green skin with yellow stripes and a tart flavor.

By: Elena Belyaeva

Black and purple tomato varieties have a more robust and smoky flavor than red tomatoes.