What are the Different Methods of Cabinet Refinishing?
Cabinet refinishing, which can be a much less expensive alternative to an entire kitchen remodel, can be done in a number of ways. Wooden cabinets that have not been painted can be sanded and stained with a new color or can be changed entirely in their look with paint. Cabinets that have already been painted can be painted with a new color and can be given a fresh look by texturing the paint with a sponge or by rag rolling the paint. It is also possible to simply reface cabinets to give a kitchen a very updated look.
Using a new stain is a great method of cabinet refinishing that allows one to keep the natural look of wood in a kitchen. This kind of cabinet refinishing will not work on cabinets that are already treated with a dark stain. The color of the wood can only be changed in tone or darkness with a new stain; it can not be lightened in color. There are a number of methods and products to use a stain in cabinet refinishing, but most of them include early steps of cleaning and hand-sanding the wood. After these steps are completed, there may be one more step before applying the stain to the cabinets.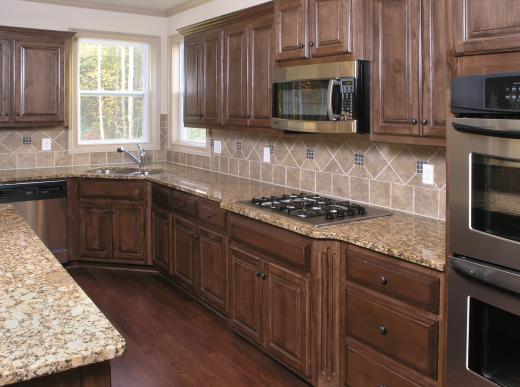 Painting wooden cabinets is a great way to quickly and easily give a kitchen a facelift. This may be the easiest cabinet refinishing method. Simply sand down the cabinets so that they have an even surface and are prepared for paint, prime them, and then paint them with a new color. For people who are looking to completely redecorate their kitchen on the cheap, it is good to choose a color of paint that will work well with other new accessories for the kitchen.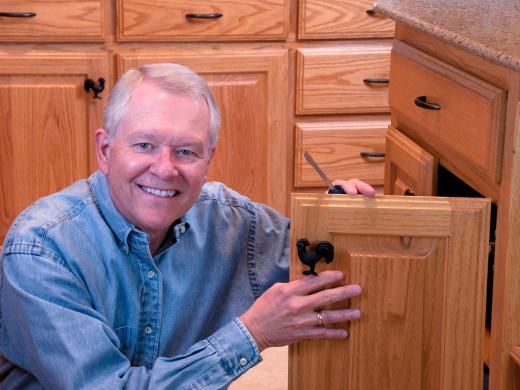 Refacing cabinets is a good kind of cabinet refinishing for people who need or want to put new doors on their cabinets but don't want to pay to have the cabinets entirely replaced. By using new doors and applying matching veneer to the visible exterior parts of the cabinet, the entire cabinet is given a new look. This is especially useful in cases where the original cabinets were not made of wood that could be altered with a new stain or coat of paint. This is also a cabinet-refinishing method that can be used to give a modern look to an older kitchen.
AS FEATURED ON:
AS FEATURED ON:

A kitchen with refinished cabinets.

By: ChmpagnDave

Good quality finish should be applied to kitchen cabinets and handles to avoid peeling.

By: Jovan Nikolic

Veneer can be added to cabinets to give them a new look.