What are the Dangers of Vermiculite Insulation?
Most of the vermiculite used for insulation in the U.S. between the 1920s and early 1990s contained small yet dangerous quantities of asbestos. The vermiculite insulation used in homes built during this period, and sometimes marketed under the trade name Zonolite®, typically contains 1-3 percent asbestos. This level represents a health risk if the asbestos is inhaled, with exposure to the fibers resulting in serious respiratory diseases. These include various forms of cancer as well as asbestosis. There are a number of steps homeowners can take to reduce the health risks of vermiculite insulation containing asbestos.
Among the most serious consequences of asbestos exposure is the development of a relatively rare form of cancer called mesothelioma. It develops in the protective tissues surrounding internal organs such as the lungs, heart, testes, and stomach. The majority of individuals who are diagnosed with mesothelioma have had occupations in which they inhaled particles of asbestos or glass. Many of these people either were involved in the mining, manufacturing, or installation of vermiculite insulation or asbestos.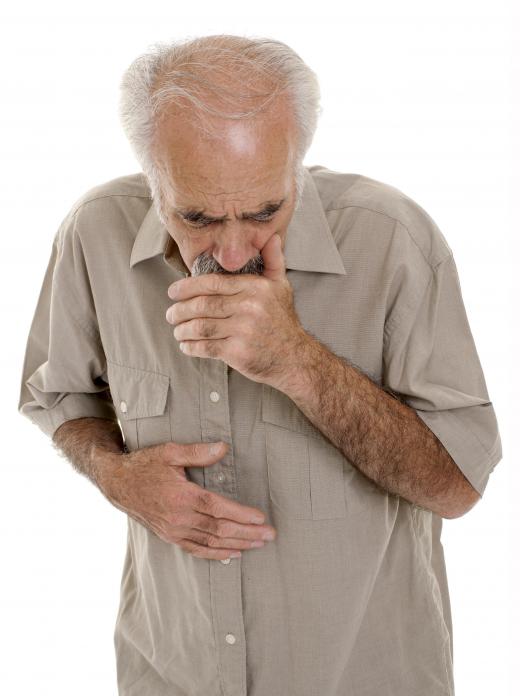 The period of exposure to asbestos that leads to the development of mesothelioma is sometimes quite brief, involving as little as one to three months. The onset of the disease often occurs long after exposure, almost never appearing in less than 15 years, with the majority of cases developing within 30 to 40 years. There is no direct relationship between mesothelioma and smoking; however, smoking increases the risks for developing asbestos-related diseases. Some cases have occurred among family members of workers exposed to asbestos, as well as in regions where asbestos naturally occurs.
Asbestosis can also result from exposure to asbestos-containing vermiculite and results in severe inflammation and scarring of lung tissue, leading to respiratory distress. It is considered an occupational lung disease and usually occurs among those who have been involved in the mining, manufacturing, or handling of asbestos. Without proper protection, workers who remove asbestos are also at risk.
As with mesothelioma, the appearance of asbestosis is often delayed by decades following exposure. Asbestosis frequently leads to the development of various forms of lung cancer, especially mesothelioma. There is no curative treatment available for asbestosis; most treatment is aimed at relieving the patient's shortness of breath and reducing the lung secretions that hamper breathing.
Preventing exposure to asbestos is essential to avoiding these diseases. If vermiculite insulation must be disturbed as a result of repairs, remodeling or removal, use of a High Efficiency Particulate Air (HEPA) respirator along with eye protection and gloves is strongly recommended. Use of an HEPA vacuum cleaner for cleanup and plastic sheeting to prevent dust entering other parts of the building are also recommended. Exposure to or removal of large quantities of suspect vermiculite insulation should only be performed by qualified asbestos removal contractors.
AS FEATURED ON:
AS FEATURED ON:

By: hartphotography

Vermiculite insulation may contain asbestos, which has been linked to a rare cancer called mesothelioma.

By: Photographee.eu

Smoking increases the risks for developing asbestos-related diseases.

By: CLIPAREA.com

Asbestosis may result in severe inflammation and scarring of lung tissue.

By: reineg

Asbestos exposure may lead to a cancer of the protective tissues surrounding various internal organs.

By: jovannig

Exposure to asbestos may cause shortness of breath.