What Are the Best Tips for Growing Amaranth Seeds?
Amaranth seeds are a nutritious grain crop from Central and South America. Amaranth requires a frost-free growing season of four to six months to mature for harvest. The right soil temperature and planting depth as well as care during the growing season are critical factors in growing amaranth seeds successfully.
Amaranth should be planted in late spring after all danger of frost has passed and the soil warms to 65°F (about 18°C) or higher. A soil thermometer, inserted into the top 4-inches (about 10 cm) of the garden bed, can usually provide an accurate temperature reading. The best time to measure soil temperature is in midmorning. Home and garden centers sell thermometers designed specifically for horticultural use.
Good garden soil can help get an amaranth crop off to a vigorous start. The garden bed should be cleared of sticks, plant debris and weeds before sowing. A layer of compost or seasoned manure spread 2 to 4 inches (about 5 to 10 cm) deep should be dug into the top 8 to 12 (about 20 to 30 cm) of the soil. The organic mater provides nutrients and helps improve the structure of the soil. Amaranth seeds thrive in a soil pH range between 6.5 and 7.5.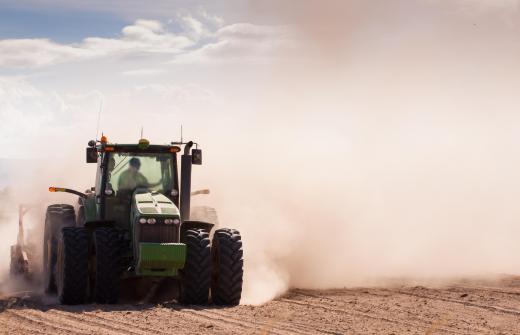 Furrows, dug 1/2 an inch (about 1 cm) deep in rows 30 inches (about 76 cm) apart, should then be created using a shovel or trowel. Amaranth seeds are best sown in the furrows about 1 inch (2 cm) apart. The amaranth seeds are covered with 1/2 an inch (about 1 cm) of soil and kept damp during germination and the early growth stages.
Once the amaranth seedlings are large enough to handle, they should be thinned to a spacing of 3 inches (about 7 to 8 cm) apart. Keeping the weeds down during early growth is important to prevent the young seedlings from being smothered. The seedlings should be kept slightly damp during the growing season.
Amaranth seeds usually are ready to harvest four to six months after planting. The seed pods, or heads, develop on the plant and should be picked slightly before they are fully ripe. Once the seeds ripen, they burst from the pods and scatter on the ground. Tender amaranth shoots, harvested three to six weeks after planting, make a fresh delicate addition to summer salads and greens.
The seeds commonly are dried and stored. Amaranth seeds are nutritious and have a slightly nutty flavor. They can be boiled and eaten as a grain or ground into flour and made into bread, pasta and other starchy foods.
AS FEATURED ON:
AS FEATURED ON:

By: photorebelle

Amaranth seeds are native to Central and South America.

By: Johan Larson

Amaranth requires a frost-free growing season of four to six months.