What Are the Best Materials for a Crawl Space Floor?
The best materials for a crawl space floor are gravel, crushed stone or concrete, with the best of those choices being concrete. Concrete will keep out moisture and bugs. Construction work that might need to be done in the crawl space will be much easier with a finished concrete floor. The concrete should be poured after the footer installation and the foundation walls are in place. Concrete crawl space floors will be difficult to install after framing has begun.
Even though the best crawl space floor is concrete, most crawl space floors are not. The typical floor is simply dirt. The main reason for building a home over a crawl space is to save money. The full basement is a better option, but the additional cost might not fit in to the builder's budget. Crawl spaces are adequate if a proper vapor barrier and ventilation are installed.
To install a concrete slab in a new construction, various steps need to be taken. After the footers and foundation walls are complete, a French drain system should be installed on the exterior of the foundation. If any portion of the foundation is under grade, these areas must be waterproofed.
Before the concrete pad is poured, all of the plumbing or electrical groundwork must be done. At this point, a six mill plastic vapor barrier must be set on the earth in the crawl space area. A preferable method for this is putting about 3 inches (7.62 cm) of crushed stone or gravel down before setting the vapor barrier.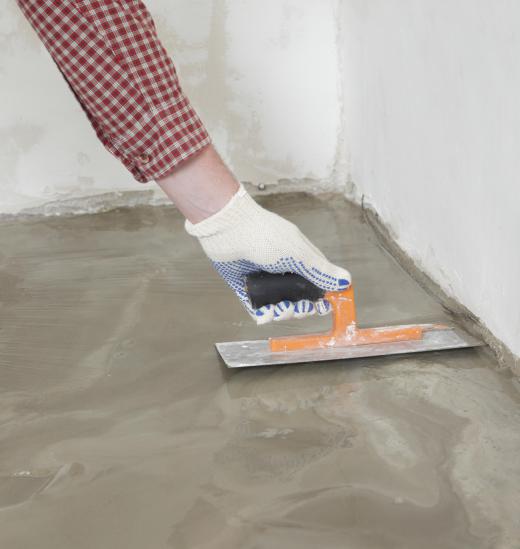 After the vapor barrier is in place, steel reinforcing can be added but is not necessary. Half-inch (1.27-cm) steel rebar can be added on 24-inch (61-cm) centers or wire mesh can be set in place before the concrete is poured. The additional steel reinforcement will insure insure the best crawl space floor.
The concrete slab should be poured 4 inches (10.16 cm) thick. A floor drain can be installed but might not be necessary. In many cases, water heaters and furnaces are installed in the crawl space.
If the existing crawl space floor is dirt, some improvements might be undertaken to give the homeowner the best floor possible. A six mill plastic vapor barrier should be installed. About 3 inches (7.62 cm) of stone or crushed gravel can be applied over the plastic to hold it down and allow work to be done in the crawl space without tearing the plastic.
AS FEATURED ON:
AS FEATURED ON:

By: wittybear

Metal reinforcing bars, or rebar, may be used to strengthen concrete crawl spaces.

By: Lilyana Vynogradova

Concrete will keep moisture and insects out of crawl spaces.

By: nito

Gravel is one of the best materials for a crawl space floor.

By: podsolnykh

Concrete for a slab floor is frequently poured over wire mesh or a steel rebar grid, which increases the strength and durability.