What Are the Benefits of a Lacquer Finish?
Most wooden furniture and floors are finished with spray- or brush-on products which add an attractive and protective layer to the raw timber. One of the most popular of these products is lacquer varnish. It offers several distinct advantages over peer products such as wax, oil, polyurethane, and shellac including fast drying and good wear resistance. The lacquer finish is also relatively long lived, resistant to staining, and won't oxidize and become brittle. In addition, a lacquer finish does not feature color or tone changes as it dries, thereby allowing the carpenter to better judge the finish from the moment of application.
Lacquer finishes are derived from organic plant resins mixed with a solvent drying agent. They feature some of the fastest drying times of all protective finishes which has a number of advantages. The first is the obvious improvement in turnaround; lacquer finished pieces often dry in less than half the time of those treated with other products. The second advantage is an improved surface quality due to the reduction in dust adhesion. Floor space tied up with drying is also reduced which further enhances the aforementioned production cycle improvements.
Another noteworthy advantage of the lacquer finish is its longevity and general wear resistance. Pieces finished with lacquer products wear well, resisting heat discoloration, water spills, oils, dilute acids, and alcohol. The lacquer finish also resists cracking due to heat modulation or wood shrinkage. Lacquer also doesn't oxidize and become crumbly or brittle over time as is the case with many oil based products. These factors lend lacquer finishes exceptionally good life spans, thereby allowing them to remain attractive and serviceable for longer than many other treatments.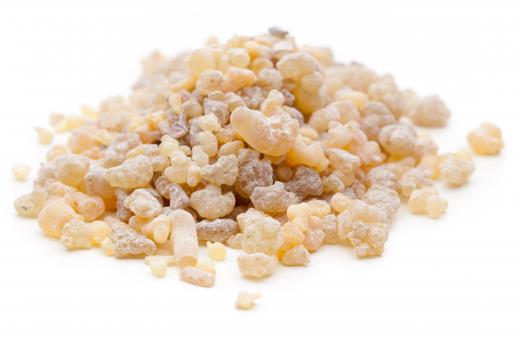 One of the attractive features of a lacquer finish from a carpenter's perspective is its color and tone stability throughout the drying cycle. Many other products change tone and shade as they dry, thereby making it difficult to judge the end result while applying the finish. Lacquer finishes, either in clear or tinted form, retain the same color and tone at all stages of application and curing which gives a good indication of the end result from the first coat. A cured lacquer finish may also be left with a matte, satin surface or polished up to a mirror gloss depending on the desired end result. Once polished, the lacquer is hard enough to maintain its luster over the life of the finish, subject to normal use.
AS FEATURED ON:
AS FEATURED ON:

By: difught

Some lacquer finishes can be sprayed on to provide protection to wood.

By: unpict

Plant resin, which is used to make some lacquer finishes.

By: vvoe

Lacquer finish dries quickly, and its color stays the same, wet or dry.

By: Photographee.eu

A lacquer finish allows for easier maintenance of furniture pieces.

By: Daniel Krylov

A lacquer finish may be applied to wooden cabinets.

By: leungchopan

Once polished, the lacquer is hard enough to maintain its luster over the life of the finish, subject to normal use.