What are the Basics of Burglar Alarm Wiring?
Basic burglar alarm wiring and installation is a task that is easily accomplished after the supplies have been purchased and the design of the building is accurately evaluated. The first step one must take is to decide where the components are going to be installed and what extra features are going to be added, if any. The basics of burglar alarm wiring include placing sensors in the desired areas where a burglar might try to gain access and concealing the wires to make the system more difficult to disable.
The main alarm panel is the first component that needs to be wired in. It is best for it to be installed in a place that is not easily accessed, such as in a basement, a closet or a back room. One should be sure that there is an outlet close enough to allow the unit to be plugged in, or an electrician can wire it directly into the fuse panel.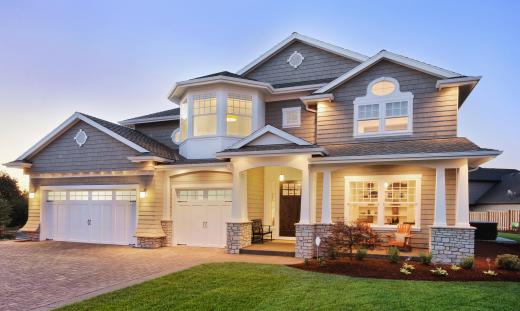 The second step in burglar alarm wiring and installation is placing the keypads. The best place for these is as close to the doors as possible, especially the main entrance door. It should, however, be hidden well enough so that intruders cannot readily disable the system.
To wire the keypad into the main console, one might need to drill holes through the wall so that the wires can be fed through to the main alarm panel while remaining hidden from view. It is also possible for small wires to be hidden underneath trim boards, along corners and along or underneath various other design features of the house or building. The wires should be hooked to the keypad first, then the wiring should be run through the building and attached to the main control board.
The last step in the burglar alarm wiring process is for the sensors and alarms to be attached. Anyplace where a burglar can gain access to the house or business should get a sensor, such as on doors and windows. They should be mounted in place, and the wiring should be hid under existing features of the building. The wires should run from the sensors and alarms to the main control panel, where they should be wired into the correct slots.
Burglar alarm wiring and installation can seem like a taunting task, but if careful planning proceeds the actual installation and wiring process, the job can easily be completed within a matter of hours. The most important aspect one must remember is to always hide the wiring and all the components as much as possible. Otherwise, installing the burglar alarm system will be a waste of time because it will be easy to disable.
AS FEATURED ON:
AS FEATURED ON:

By: bmak

A burglar alarm system may help ensure a safer, more secure home.

By: Kenishirotie

It may be best to hire an electrician to install alarm systems with wall-mounted control panels.