What are the Advantages of Using Concrete Fence Posts?
The average fence system is subject to a great deal of physical force during both everyday and emergency situations. Even a small amount of wind can cause sections of a fence to become loose, while major storms or accidental impact can dislodge the fence posts from the ground. Fences and posts are also subject to damage from vandals and even motor vehicle accidents. While many builders rely on traditional wood or metal fence posts, concrete fence posts offer a much higher level of strength and durability. Handy homeowners can even construct these fence posts themselves to save money over pre-manufactured wooden or steel posts.
Concrete fence posts offer more strength per unit than wood, which allows builders to use smaller posts and dig smaller holes. When subject to the same amount of wind or level of force, concrete fence posts can support a larger load than a wood post of the same size. Concrete posts are also affordable, especially when compared to steel or specialty wooden models. They are particularly affordable when one considers the cost of replacing less durable fence posts over time.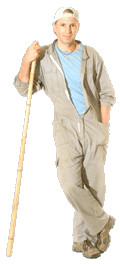 While wooden and steel posts require nails, screws, or other fasteners, concrete fence posts often utilize a slot-based fastening system. The posts have grooves cut into each side, which can accommodate a standard fence rail. Some manufacturers may use a special proprietary installation system designed to work with over-sized rails. Because these systems require no metal fasteners, they are not subject to rust or corrosion. They require very little maintenance, and are quick and easy for even the novice installer.
One of the primary advantages of using concrete fence posts is their high degree of durability. Concrete naturally resists rot and mold, which can damage wood posts. They will not rust like steel posts, and cannot be damaged by most pests or termites. Even when subject to frequent storms or wind, concrete fence posts will hold up for many years.
While many people associate concrete with cold, gray tones, concrete fence posts actually offer a wide number of finish options to meet any design criteria. Modern concrete can be stamped or etched to create intricate patterns or textures. Concrete posts can even be manufactured to resemble brick, natural stone, or wood. Some posts come pre-finished, with different manufacturers offering a wide variety of colors and styles. Acid-stained concrete offers additional color and finish options, many of which can be refinished over time to create a new look.
AS FEATURED ON:
AS FEATURED ON:

Worker