What are the Advantages of Oil Paints?
Artists have used oil paints for hundreds of years, and they have been dated to as early as 13th century England, where they were used for simple decoration. In the early years, however, many artists chose to use tempera paints instead of oil because they were able to dry more quickly. In the 15th century, Flemish artists experimented with combining the two types of paints, but it was not until the 17th century that pure oil paints became a more common art medium. The slow drying time is considered an advantage by some painters. This type of paint is very durable, and it produces bright colors that are easily blendable.
Oil paints are slower drying than other forms of paint because they are made of small particles of pigment that are suspended in a drying oil. While some artists may find this slow-drying property bothersome, most artists consider this type of paint to be an essential media that should be taught to every art student. This is partly because of the many artistic masterpieces that have been created using the paint, but it is also because oil paints create luminous colors that are hardwearing, making them a good choice for creating new works of art.
There are many advantages to using oil paints, aside from its hardwearing property. They can also be left open for long periods of time, and in fact, they can often be left exposed to air for several weeks without drying. This characteristic makes it possible for an artist to work on a painting over several sessions without fear of the paint drying up too early. Of course, this trait can be looked at as a disadvantage by some, because it takes weeks for a project to be finished, and the slow drying process can make it difficult to move on to the next stage of the painting.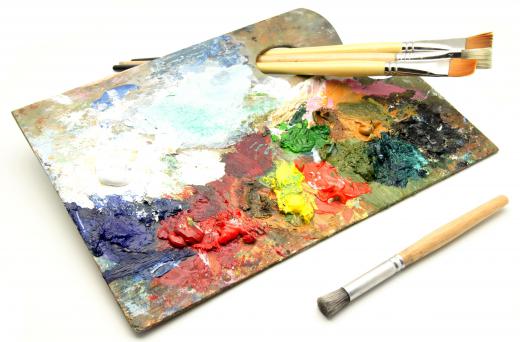 Oil paints are also excellent for blending with surrounding paint. When blended on canvas, they can produce artistic brush strokes and blends that are not possible with other forms of paint. For some artists, however, this feature can be viewed as a disadvantage, because it is also possible to accidentally blend colors while painting that were not meant to be combined.
AS FEATURED ON:
AS FEATURED ON:

By: dred2010

Artists have used oil paints for centuries.

By: dulsita

Oil paints can take several weeks to completely dry.

By: WavebreakMediaMicro

Oil paints are very durable and produce bright colors.

By: captblack76

Oil paints dry by oxidation, so they set much more slowly than other paints.