What are the Advantages of Custom Cabinets?
Cabinets are an essential part of any house or business. Whether they house crucial documents such as a filing cabinet, or display the most wonderful collection of family china, custom-built cabinets speak of character and personality. Therefore, the first and most obvious advantage is how they meet the specific needs of consumers. For example, suppose the shape and size of your kitchen is not among the most common dimensions. Since pre-fabricated cabinets come in standard lengths, such as 18, 24, 30 and 36-inches, fillers are needed to make up the differences in lengths.
A bay window, a double oven, a kitchen desk or island cabinet all add unusual dimensions to kitchen cabinets. To keep from wasting costly space, custom cabinets are worth the cost difference. In addition, pre-fabricated cabinets usually include man-made wood products covered with vinyl. Custom cabinets can be built using all plywood parts and even solid lumber if desired.
Another advantage of custom cabinets is their height. Kitchen base cabinets are commonly built to 36-inches in height including the countertop. For some families, this is not high enough while for others it is too high. Custom cabinets can be built to specific dimensions including height.
Along with the advantage of custom height, comes the functionality of the cabinets. A section of drawers, for example, can include two large and one small or one large and two or three small drawers. They can also be customized according to what is to be stored in them. Imagine, having a drawer that is custom built to hold the electric blender when it is not in use or the coffee maker after making the morning coffee. The wall cabinets can be designed to have lighting underneath to help you see when making the morning coffee.
The upper cabinets, sometimes called wall cabinets, are also built in the same pre-fabricated widths as the base cabinets. However, the same advantage can also be realized. Custom upper cabinet designs include glass doors, which is something you won't see much of in base cabinets. The advantages of custom cabinets are only limited by the homeowner's imagination and ability to describe how they should look.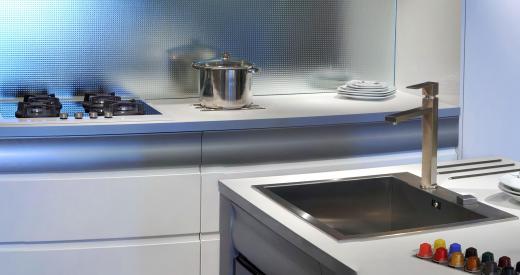 The final advantage covered in this article is countertops. Pre-fabricated countertops will not be a mixture of hardwood for a cutting board and granite for serving areas. Today, there are many different avenues to pursue in countertop material. With the refining of natural stone, many are using products like granite, marble and even slate for kitchen countertops because they are more durable than laminated plastic. Whatever the desire, the possibilities are endless when it comes to realizing the advantages that come in a set of custom cabinets.
AS FEATURED ON:
AS FEATURED ON:

Stacks of plywood sheets, which can be used to make cabinets.

By: stokkete

Carpenters can be commissioned to build custom cabinets.

By: Tilio & Paolo

Custom cabinets can often determine the look and feel of a kitchen.

By: Visionsi

Most modular kitchens have customized cabinets that are designed to fit into the kitchen's overall design and functionality.