Storm windows are engineered to withstand the effects of extreme weather conditions, whether they be high winds, hail, or driving rain. Some manufacturers use tempered glass to provide protection from debris, while others may use polycarbonate plastics instead of glass. Many also feature the same design features as the standard windows they protect. Individual panels may be raised for ventilation or unhinged for easier cleaning.
Most conventional windows do an adequate job of protecting inhabitants from the elements, but very few are engineered to withstand extreme weather conditions. During storms and other severe weather events, standard windows may be struck by flying debris, or allow pelting rain or cold air to penetrate living areas. One early solution to this problem was the addition of wooden shutters, but a more modern solution is the installation of storm windows.
When purchasing these windows, it is important for homeowners to decide between interior and exterior models. If the standard window unit swings outward or local ordinances prohibit exterior modifications, interior ones may be necessary. Other standard sashes should allow for exterior storm windows, which basically act as a reinforced second set of windows, not just a protective barrier.
Installing exterior windows is not a job for absolute beginners, but many experienced do-it-yourselfers are able to perform the task without the need for a professional. Home improvement centers and hardware stores should offer complete sets already placed in frames and ready to mount. Measurements should be taken first to ensure a proper fit, although kits often include extenders for irregular window sizes and uneven sills.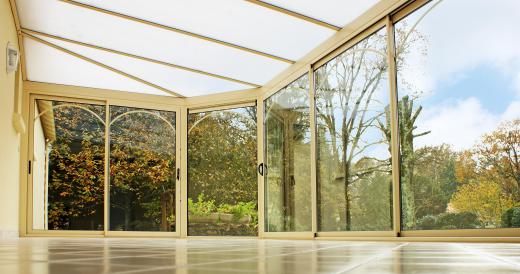 Exterior storm windows should fit snugly in the space between the exterior wall and the recessed standard windows. Installers usually apply a special weather-resistant caulking around the sash to seal out any leaks, but no caulking should be applied to the bottom sill, since water must be allowed to escape before it pools up and penetrates the walls. The entire frame is then lined up against the exterior shutter panels and screwed into place. These windows should fit squarely to eliminate leaks and loss of insulation.
AS FEATURED ON:
AS FEATURED ON:

By: Gavin Anderson

Storm windows can protect against hailstorms.

By: mackflix

Lightning during a storm.

By: photlook

Solariums often have windows made of polycarbonate sheets for protection against stormy weather.

By: dbrus

Storm windows are meant to withstand the effect of extreme weather conditions like hail or high winds.