What are Some Tips for Growing Cucumbers?
Cucumbers are edible vegetables popular throughout the world for their crisp texture and taste, and their wide range of uses. From salads to pickles, from digestive aids to beauty products, cucumbers are a truly versatile vegetable. Growing cucumbers is not difficult, and they are suited to a variety of climates. With a little bit of know-how, most people can grow them at home.
Originating in India, it should come as no surprise that cucumbers enjoy heat — and plenty of it. If the average temperature in a location is around 70°F (21°C) then it is an ideal range. People who want to grow cucumbers somewhere colder might still be able to make it work, it will just take a bit more planning.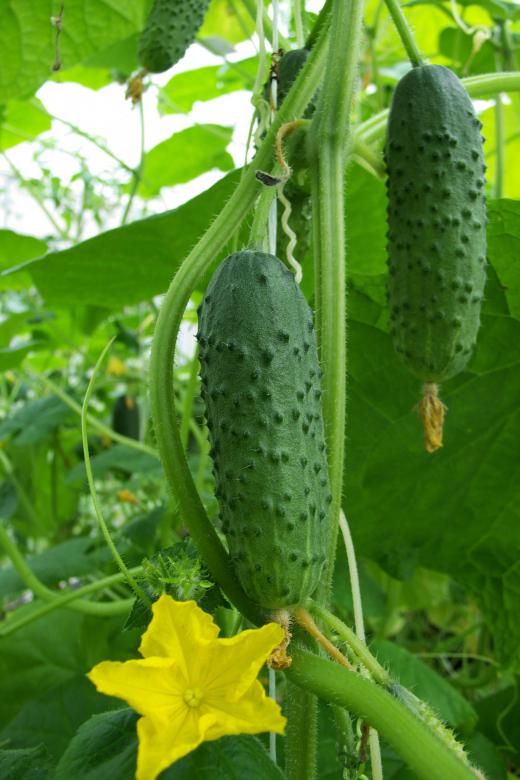 In most situations, gardeners will want to plant the vines where they'll get plenty of direct sun. The only exception to this would be if they are growing cucumbers somewhere that gets very hot and has a lot humidity. In this case, it is best to try growing the cucumbers somewhere where they'll still get plenty of direct sun, but where they'll have some shade during the hottest afternoon hours to keep them from drying out.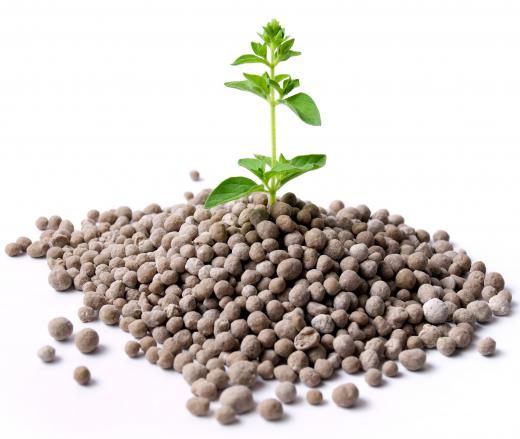 Growing cucumbers also requires a bit of space, as they won't flourish if they're too tightly packed together. Gardeners should give them plenty of room and use trellises for them to grow vertically if they don't have a lot of horizontal space. Planting cucumbers in smaller containers rather than beds or open ground is also possible — and in areas that don't get hot enough, they can be grown indoors. When growing cucumbers in containers, gardeners will probably want to pursue a dwarf variety so that they'll still have room to stretch out.
Gardeners who live somewhere with a frosting season will want to make sure you wait until a bit after the last frost of the year before they plant. Even a single light frost can ruin these gentle plants, so planting at the end of spring, or even the beginning of summer, is ideal. If temperatures still get very cold at night, gardeners may want to use some sort of frost protection to make sure the plants survive.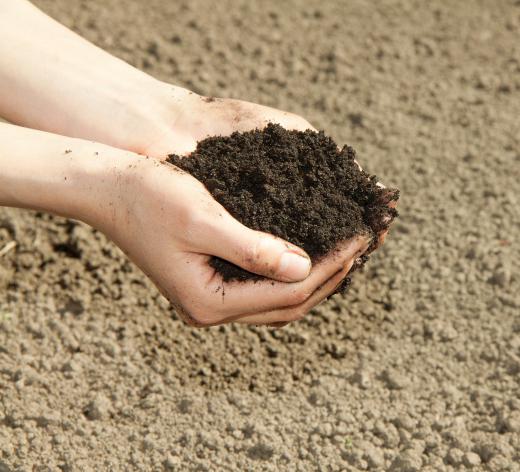 While cucumbers are quite picky about their temperature constraints, they are fairly easy when it comes to soil conditions. Growing cucumbers can be done in any soil with a reasonable pH — in the 6.0 to 7.0 range — that has good drainage. Gardeners will want to compost the soil before they plant, and may want to add some organic fertilizers and root supplements to help protect the plants against disease or garden pests. They should take care to wait until after the first flowers have appeared before fertilizes, and to maximize the yield of the plant, gardeners should make sure not to over fertilize.
When fruits do finally appear, gardeners should make sure to harvest them before they get overripe. Cucumbers that stay on the vine for too long will become bitter and full of hard seeds. People need to pay close attention to their plants once they start fruiting, as they will ripen very quickly and need to be picked. After only a couple of short months, the cucumbers will be ready to enjoy. Although they do require some upkeep and attention, it is relatively easy to grow cucumbers, and it can be an incredibly rewarding activity.
AS FEATURED ON:
AS FEATURED ON:

By: Natalya Korolevskaya

Cucumbers on the vine.

By: Sinisa Botas

Specifically formulated fertilizer can promote healthy cucumber growth.

By: mates

Cucumbers can grow in a variety of climates.

By: Vasily Merkushev

Growing cucumbers can be done in any soil with a reasonable pH — in the 6.0 to 7.0 range.