A leaf scar is the area left behind when a leaf breaks free from a stem or a branch. When a leaf falls from a tree, the petiole softens and the leaf breaks free and falls. The petiole is the part of the leaf that connects it to the stem or branch of the plant. At the time the petiole breaks free, it severs all of the vessels through which food and water travel. After breaking free from the plant, the small area on the stem that is left open heals over and leaves a distinctive mark. This mark is easy to spot, as it is normally lighter than the stem. The mark is also speckled with dots which are located where the vessels used to be connected. These vessels are grouped together in clusters called bundle scars. Both the leaf scar and the bundle scars within are very useful for identifying plant species during the winter months.
When trying to identify a plant, the leaf scars and the bundle scars are examined closely, often with a magnifying glass. By looking at the size and shape of the leaf scar, a general idea of what type of leaf used to be there can be discerned. Plants with large leaf scars and many bundle scars normally had large leaves. A small leaf typically has less of a curvy scar and only a couple bundles. A curved leaf scar is characteristic in larger leaves because a curved petiole helps to support the weight of the leaf better than a flat one can. By using the scars, a botanist can determine the pattern of the leaves on the plant as well as their size and in some instances their shape. All of these characteristics are very important when trying to determine different plant species in the wintertime.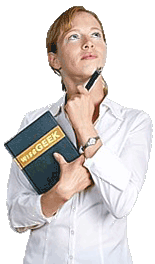 Although all leaf scars are the result of falling leaves, they can be many different shapes, sizes, and colors. The color of the scar depends on the color of the stem on which they are located. Green, brown, and red, are all common colors for one of these scars. There are also large and small scars and round and flat ones. Shapes can include oval, shamrock and crescent, among others. This depends on the shape and size of the leaf that made the scar. There also can be hairs along the scar that can help in identification as well.
AS FEATURED ON:
AS FEATURED ON:

Woman holding a book