Cordless lamps are lighting devices that do not make use of an electrical cord to establish contact with a power source. While cordless lighting options of this type are often associated with camping or emergency equipment, a cordless lamp can also be a practical and decorative element around the house.
Modern lamps come in a variety of designs. For home use, cordless table lamps have become very popular options. These simple lamps may be configured to look like a standard table lamp, complete with a shade. They function with the use of a rechargeable battery pack that is located in the lamp base. Cordless lamps of this type are great for use in entryways or halls where an electrical outlet is not conveniently located. Small cordless lamps can also be used as a way of adding a bit of accent lighting in or around bookshelves or a small nook in a larger room.
Along with table models, floor length battery operated lamps are also available. As with other decorative lamps, these tall cordless lamps are ideal for use in corners where outlets are not strategically placed. In addition, they work very well when it comes to illuminating patios for an evening party. As long as the batteries are kept charged, the devices will put out an amount of light that is comparable to the output of corded lamps.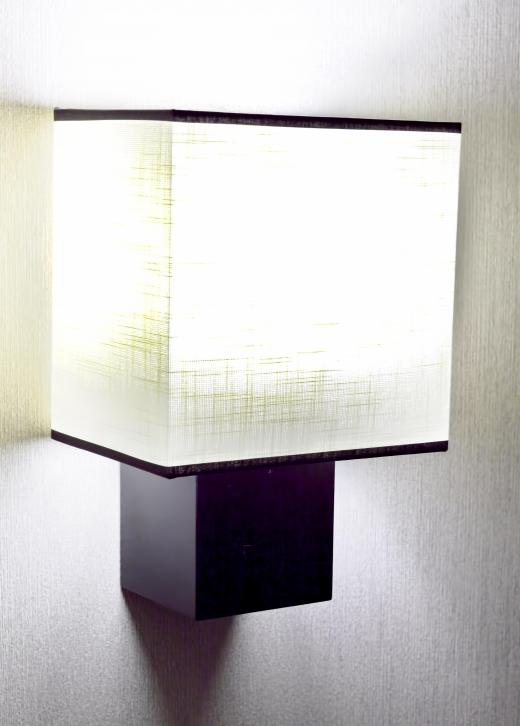 People who enjoy camping know the value of taking along one or two cordless lamps. Unlike home models, camping lamps are often made of sturdy plastic or metal bodies. Like the home models, camping lamps operate on batteries. These lamps can be used safely in tents, cabins, or as part of the process of lighting the campsite at night. Best of all, they store away with little effort between uses and require very little maintenance.
Basic cordless lamps can be found at many sporting goods stores that carry camping equipment. Some lawn and garden shops will sell versions that are ideal for outdoor use around the house. Decorating boutiques and some upscale furniture stores will provide a number of options when it comes to cordless lamps designed for use in the home. Pricing often depends on the purpose and design of the lamp, along with the materials used to create the base of the appliance.
How To Make a Lamp Cordless
Besides bringing light to areas lacking an electrical outlet, there's another practical reason you may want cordless lamps: safety. Electrical cords on the floor are definitely trip-and-fall hazards. And the last thing you want is Fluffy chewing on cords and getting electrocuted. Converting your existing wired lamps to cordless operation can save you on medical and vet bills in the long run.
The Puck Light Method
Fortunately, making a lamp cordless isn't as difficult as it may sound. Most methods require a battery pack for the lamp to draw power. But one shortcut involves installing a battery-powered cordless puck light into the lamp where the light bulb is normally placed. You can use either a remote-controlled or push-activated puck light. You'll also need some fast-drying glue and a pair of wirecutters or electrical scissors. Make sure your lamp is unplugged and follow a few simple steps to make it cord-free:
Install the lampshade onto the lamp.
Place batteries into the puck light, but do not reconnect the light's top lid.
Squeeze the glue on the upper edge of the light bulb socket. Use a generous amount, but don't apply too much.
Press down lightly on the puck light's base to help seal it to the bulb socket.
After the glue has hardened, add your batteries and twist on the puck light's lid.
Carefully cut the cord where it emerges from the base of the lamp.
Using a Power Bank
If the puck light method isn't practical or doable, there are other ways to make a lamp cordless. You can use a rechargeable lithium power bank with a built-in AC/DC power converter. Operating your lamp is simple: Just plug it into the power bank, switch it on and let there be light. Keep in mind, however, that power bank/inverter combos are a bit expensive — more than $100 USD per unit — and require constant access to air for their cooling fans.
Installing Battery Packs
Other cordless lamp conversion options include a rechargeable lithium power pack with a USB outlet, paired with a USB-powered light socket and a low-voltage DC light bulb. Portable lithium power packs start at around $25. Meanwhile, most USB-powered light sockets cost between $15 and $30. The average 5-volt USB light bulb prices out at $12 and up.
You could also use a 12-volt AA battery bank and a 12-volt DC light bulb. You'll need wire strippers and electrical tape plus wire nuts. You must hardwire the battery bank where the lamp's standard plug is located, then power the battery bank with eight regular AA batteries. Many 12V battery holders cost under $10. You can find 8- and 12-packs of rechargeable batteries for under $20. You'll find multipacks of 12V bulbs under $20. The wire nuts, electrical tape and wire strippers together will run you $20 or less.
How Do Cordless Lamps Work?
Cordless lamps do not use traditional electrical cords, plugs and outlets. As you've already seen, they rely on battery power to produce light. They can be powered through any type of battery that supplies enough juice, but AA batteries are a usual go-to choice. Premade cordless lamps tend to use AA batteries and LED lights. Some models aren't LED by default, but they can use LED bulbs.
Other cordless lamps are rechargeable and come with USB ports — just plug a USB cord in and connect it to an electrical outlet. There are even a few solar-powered versions on the market with built-in solar panels and LED lights. Prices for both rechargeable and standard cordless lamps vary by size, design and manufacturer.
Where Can I Purchase a Cordless Lamp?
Thankfully, you don't have to look far and wide to buy cordless lamps. They're available from most major retailers including Wayfair, Target, Lowes, Amazon and Walmart. You can even find rechargeable LED bulbs at Ikea and other stores. While a rechargeable LED bulb doesn't technically make your lamp cordless, it does charge to full power while your lamp is on and plugged into an outlet. Should the power disconnect or the lamp be unplugged, the bulb will stay lit for a couple of hours. As a bonus, rechargeable LED bulbs use far less energy than traditional bulbs.
AS FEATURED ON:
AS FEATURED ON:

By: iskandarov

Cordless table lamps have become very popular household items.

By: Vitas

Cordless lamps are powered by battery.

By: venusangel

Cordless lamps may come in a variety of shapes, styles, and sizes.

By: venusangel

Floor length battery-operated lamps are ideal for use in dark corners.