What are Carpet Cleaning Machines?
A carpet cleaning machine is a device used to extract dirt, dust, stains, and debris from carpets. These machines are used when carpets require deeper cleaning than vacuums can provide. Vacuums are good for getting rid of crumbs, soil, and other particles that haven't been ground in or allowed to soak into the carper fibers. When debris can't simply be sucked up, however, carpet cleaning machines can help.
There are wet and dry carpet cleaning machines. Wet carpet cleaning machines, often used in residences, are referred to as steam cleaners. They work by putting water on the dirty carpet and then sucking the now dirty water up again. When this process works well, the carpet is left much cleaner. When using this type of carpet cleaner, care must be taken to avoid overly wetting the carpet, which can discolor or shrink it.
Some wet carpet cleaning machines are called extractors. These machines use a chemical solution that is injected into the carpet using a powerful pump. Then, the high-powered motors of the carpet cleaning machine suck the chemical and the dirt back out of the carpet once more. Often, the water is heated, as heated water is more effective at breaking down dirt inside the carpet. Many people consider extractors the preferred option for deep cleaning carpets.
Some people prefer to use dry cleaning machines. Dry carpet cleaners involve placing a dry chemical on the carpet before vacuuming. This chemical is designed to be absorbed and then get sucked up along with the dirt. This type of machine is considered less messy than wet cleaners. However, it may be less effective at cleaning heavily soiled carpets and those with certain types of debris, especially debris that has been ground into a rug.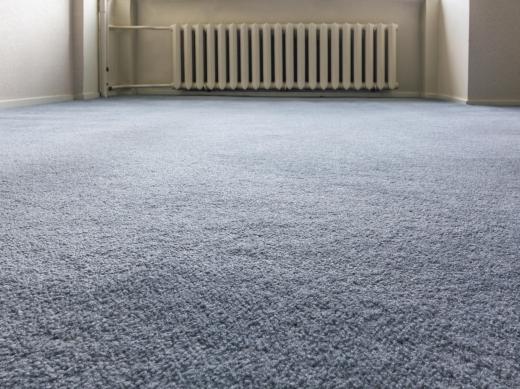 There are many different types of carpet machines available for purchase. In choosing one, it is best to look for one that is durable and less prone to breaking. It should also have a powerful suction, be light enough for the person using it, and be simple to operate. Consumer reviews may be good for comparing choices.
Some people buy carpet cleaning machines to keep their homes in pristine condition. However, this type of equipment can be rather expensive, especially when wet methods are chosen. Instead, many people choose to go to hardware stores and home carpet cleaning machines. Rental prices are typically low to moderate. Others may opt to pay a cleaning service to bring its own carpet cleaning machines in and do the job for them.
AS FEATURED ON:
AS FEATURED ON:

A professional carpet cleaner.

By: TMakotra

Steam cleaning a carpet may help get rid of pet odors.

By: maigi

It's important to move all of the furniture out of the room in preparation for carpet cleaning.