Should I Buy Steel Kitchen Cabinets?
There are both advantages and disadvantages to buying steel kitchen cabinets. They provide an alternative to traditional wooden cupboards. If you're thinking about purchasing steel cabinets for your kitchen, it's a good idea to consider their pros and cons before making your final decision.
In terms of looks alone, stainless steel cabinets fit in well with appliances in the same material and further the cool modern appeal of kitchens featuring the metal. The disadvantage, for some people, is that a cold tone, rather than the warm tone set by wooden cabinets, is often created in kitchens furnished with a lot of stainless steel. However, others find the cooler look of silver-colored steel kitchen cabinets appealing as well as a stylish, contemporary alternative to wood cupboards. Metal cupboards work especially well in industrial spaces such as lofts with exposed metal ceiling pipes; wood cabinets in these spaces may look too bulky or dated.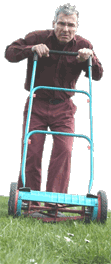 In humid climates, metal cupboards may be a better choice than more traditional cabinet materials because they don't pose the risk of warping like wood cabinets. Although stainless steel kitchen cabinets are usually more expensive than other metal or wood cupboard styles, they also don't rust. Yet, like stainless steel appliances, cabinets made from this same material tend to also show fingerprints, smudges and scratches much easier than wood.
Steel kitchen cabinets are considered very easy to care for as they typically just require wiping with a damp sponge. They also don't need polishing with lemon oil like some wooden cupboard designs. Wood styles of kitchen cabinets tend to suit many more decors than steel ones do though. For example, traditional, tropical and country looks usually work best with wood rather than stainless steel cabinets. Yet, for modern style homes, steel kitchen cupboards can make an almost futuristic design statement that is unmatched by wood.
Although wood cabinets may be finished in different colors or painted, steel kitchen cupboards also have that same advantage. There are also many different steel kitchen cabinet finishes to pick from in ready to install cupboards. Brushed steel has a duller, but more interesting textured than polished metal. Polished stainless steel cabinets are usually easier to find than the brushed varieties.
When buying steel cabinets for your kitchen, choose a reliable dealer or showroom. Check the cabinets for color consistency and quality. One disadvantage of all types of metal kitchen cabinets can be an irritating metallic ringing noise each time a cupboard door is opened or closed. Try opening and closing cupboard doors in sample showroom kitchens before deciding on your metal cabinets.
AS FEATURED ON:
AS FEATURED ON:

Man mowing the grass