Is There Such a Thing As a Wood Burning Pool Heater?
Believe it or not, gas, electricity and oil do not have the market cornered when it comes to heating water. There is indeed such a thing as a wood burning pool heater. The fuel source may sound antiquated or unnecessarily frugal, but the technology is exceptionally modern.
When one thinks of a wood burning stove, the idea of a potbelly or a cast-iron fireplace connected to a chimney may come to mind. In reality, a wood burning water heater can be placed outdoors in its own protective shed. Wood is fed into a centralized iron box which generates radiant heat. A secondary compartment surrounds this heat-generating stove in a closed system of pipes and holding tanks. Unheated water circulates around the central stove, absorbing the radiant heat.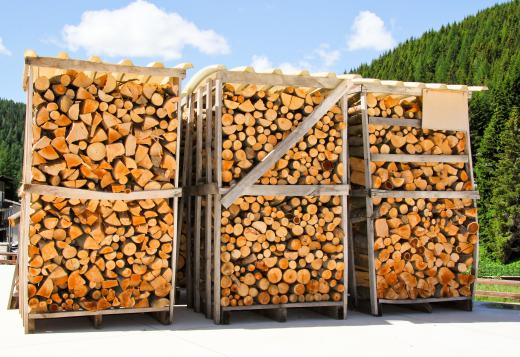 This heated water can then be circulated through the inflow and outflow systems of a standard in-ground pool or hot tub or radiant heating system. Additional wood can be added periodically to maintain or increase the ambient water temperature. Once the fire in the wood burning pool heater is extinguished, the circulating water cools down. Unlike a conventional electric or gas water heater, there is no reserve supply of heated water in a wood burning model.
Unlike a high-pressure boiler system, a wood burning pool heater does not require special training to operate safely. The heated water may become boiling hot, but it will not form into dangerous levels of steam. The heated water is circulated through a forced pump system, much like the radiator system of an automobile. Cooler water returns to the hottest part of the system and keeps it from overheating.
Wood burning pool heaters are especially popular in colder climates where firewood is already available in abundance. Instead of tapping into the same electrical or gas water heating system the rest of the house uses, homeowners can simply fire up a separate water heating source in its own protective housing. After stoking the fire and adding several long-burning logs or special wood pellets, owners can enjoy the benefits of a heated pool without adding to their utility bill or taking hot water from other users.
AS FEATURED ON:
AS FEATURED ON:

By: erikazanier

Wood burning pool heaters are popular in colder climates where firewood is readily available.

By: Coprid

Some wood burning pool heaters burn cost effective wood pellets.