How do I Waterproof a Floor?
Waterproofing a floor is the best way to protect it from damage, especially in areas such as the kitchen, bathroom and in front of entranceways. Water can soak through the floor, causing it to warp, crack or develop mold. Some floors, such as linoleum, are naturally resistant to water damage but most others, such as wood, ceramic tile, and laminate must be waterproofed. There are different ways to waterproof a floor, depending upon the material from which it is made.
Wood flooring adds beauty and elegance to a home, but unfortunately it is also easily damaged by water. There are several things a person can do to waterproof a floor made of wood. Before hardwood is installed in a home, the subfloor should be covered with an asphalt felt, also known as moisture barrier, to protect the wood from the moisture that forms under the home. The newly installed or preexisting wood flooring can now be waterproofed by applying a sealant usually composed of a polyurea/polyurethane mixture. Since this sealant may change the color of the wood if applied incorrectly, it is recommended to have this procedure performed by a professional.
Ceramic tile is a popular flooring, often found in kitchens and bathrooms. It is relatively simple to waterproof a floor made from ceramic tile. If the flooring hasn't yet been installed, it is best to lay waterproof backer board over the subfloor. Should a piece of tile become cracked and water leak through, the subfloor will not be damaged. After the ceramic tile has been installed, or in cases of preexisting tile, a membrane-forming sealant should be applied. In addition to protecting the tile from water damage, it will also prevent the grout from becoming stained with dirt.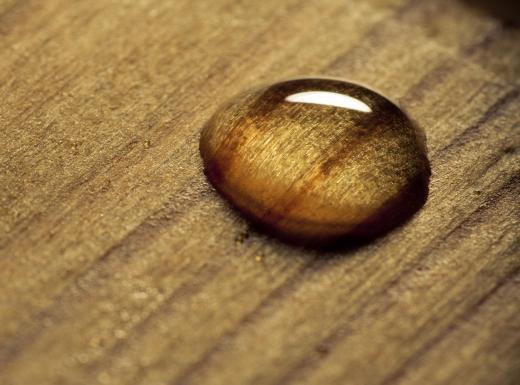 Laminate is the flooring of choice for homes located in areas of high humidity, because they are usually sold with a preexisting waterproof barrier. Like hardwood, a moisture barrier should be laid down before installing the flooring to protect that underside of the laminate. A polyurethane sealant can also be applied to waterproof a floor if its history is unknown. Laminate floor sealant is sold at any do-it-yourself store and can be applied in two to four coatings using a standard mop.
Even though a floor has been waterproofed, it will probably not be able to hold up against standing water. Spills should be wiped up immediately. Rugs should be placed in entranceways and in front of sinks and bathtubs to absorb water before it soaks into the floors.
AS FEATURED ON:
AS FEATURED ON:

By: andersphoto

A caulk gun may be used to apply polyurethane sealant.

By: red2000

Waterproofing a wood floor prevents future stain damage.

By: Wollwerth Imagery

Some homeowners choose engineered hardwood or laminate flooring over solid hardwoods because it is more resistant to fluctuations in moisture.

By: CandyBox Images

When used with watertight grout, glazed tiles offer waterproof flooring.

By: Iriana Shiyan

Wood floors tend to be susceptible to water damage.