How do I Repair Cracks in Walls?
Whether your walls are plaster, drywall, or concrete, fixing small to medium cracks typically requires just a few tools and simple instructions. Cracks result when a wall moves and are usually due to the house settling; the building materials in a house expand and contract due to temperature changes, and the soil under the house can shift, both of which can cause cracks. Most are cosmetic problems that you can repair using a putty or epoxy filler of some kind. Cracks that are especially wide or that show up again, however, should be diagnosed and repaired by professional contractors, as these may indicate serious structural damage.
Determine the Wall Type
The first step to repair cracks in walls is to determine what the cracked wall is made of. Whether you are dealing with a concrete wall, a plaster wall, or drywall — also called sheetrock, plasterboard, or wallboard — affects the way you should go about fixing the crack. Generally, only older homes are finished with plaster, a gooey substance carefully spread onto closely-spaced, horizontal slatted boards called lathes. Drywall is usually made of gypsum plaster sandwiched between two pieces of paper, and can be found throughout a house; you will typically find concrete walls in basements. One way that you may see a difference is that plaster and concrete often chip and crumble if you try to hammer a nail into them, but drywall usually will not.
Fixing Cracks in Plaster
A crack in a plaster wall is often the result of the plaster pulling away from the lathes. To fix the crack, you will need to reattach the plaster to the underlying wood slats. This is usually done by injecting an adhesive behind the plaster. To fix a crack in this kind of wall, you will need the following:
plaster adhesive
a drill with a masonry bit
a shop vacuum
liquid conditioner
flat plaster rings with screws
sandpaper
primer and paint
The first step is to drill shallow holes on each side of the crack using a masonry bit. It is important to only drill through the plaster and not through the wooden slats underneath or the spaces between them. If you do drill between slats, simply mark those holes and do not fill them with adhesive. Once the holes have been drilled, clear away any dust using a vacuum. Then spray liquid conditioner — often packaged with the plaster adhesive — into the holes.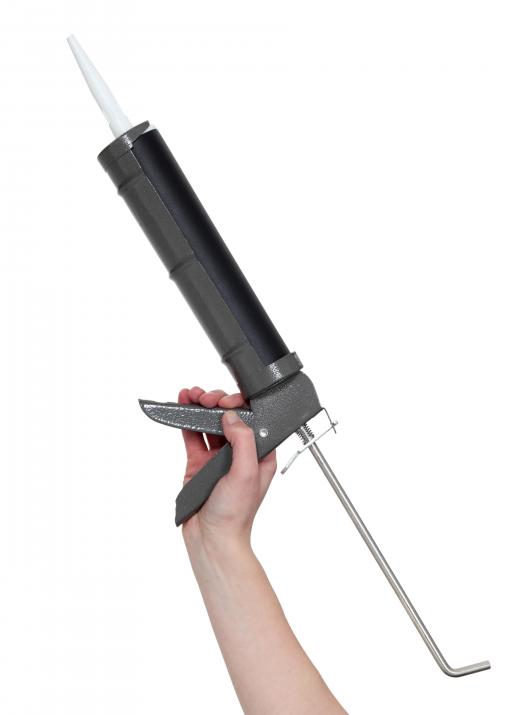 Fill the holes with adhesive using a caulking gun. Screw the plastic plaster rings into the crack and through the lathes underneath to hold the plaster and lathe together tightly, and allow the adhesive to set overnight. The next day, remove the rings and scrape off any tags or high points using a putty knife. Then apply a thin layer of joint compound to fill the cracks and any depressions. Allow the compound to dry, then sand, prime, and paint.
Superficial cracks in plaster walls can often be fixed with spackling or joint compound. After cleaning the dust from the crack, and putty knife can be used to fill it in with the compound, being sure to blend the edges in with the surrounding wall. It can then be sanded, primed, and painted. While this method works for small cracks, it may not provide a long-term solution if the plaster is pulling away from the slats.
Fixing Cracks in Drywall
To repair cracks in walls made of drywall usually requires these tools:
a utility knife
a paintbrush or vacuum
spackling compound or joint compound
a putty knife
sandpaper and a sanding block
primer and paint
For large cracks, patching tape may be needed. If the drywall on one side of the crack feels loose, it may need to be secured to the underlying studs using a hammer and nails.
The first step to repair cracks in walls made of drywall is to use a utility knife to widen the crack slightly. This gives the spackling or joint compound a larger surface to adhere to. Once you have widened the crack, clean the dust and other debris out of the crack using a paintbrush or vacuum.
Next, roughly fill the hole with compound, making sure to feather the edges beyond the crack to produce a flat, even surface, and allow it to dry. Sand the area with a very fine-grit sandpaper rated for use with drywall. Using a sanding block or piece of scrap wood under the sandpaper will make a flat surface and help you avoid creating trenches or dips on the wall. If needed, apply a second coat of compound, allow it to dry, and sand again. Once the surface is flush with the rest of the wall, apply primer and paint.
To repair very wide cracks in walls, you may need a little more structure to make the repair stick properly. This is where patching tape, also called mesh tape or joint tape, comes in handy. Fill in the crack with compound, using strokes perpendicular to the crack. While the compound is still wet, cover the crack with tape, then apply another thin layer of compound to help it to stick in place. Once the compound is dry, sand and finish the area.
Fixing Cracks in Concrete
Concrete walls are often repaired using an epoxy injection system, which has the benefit of keeping out moisture, bugs, and other pests. You will also need the following:
a wire brush
a hammer and nails
injection ports (usually supplied with the epoxy)
sealing paste (usually supplied with the epoxy)
a putty knife
a caulking gun
a hacksaw
It is important that the crack be dry and free of debris before beginning. A wire brush works well to clear away dirt, and a hair dryer can be used to dry the area.
First, align the epoxy injection ports; these are small plastic tubes that allow you to pump the epoxy inside the crack after the surface is sealed. This is done by pounding thin nails partway into the crack spaced about 1 foot (30.48 cm) apart, then slipping an injection port with a small amount of epoxy on the back over the nail, which holds it in place. Cover the crack with the sealing paste, creating a seal that will hold the the epoxy to be injected later. Make sure the area around the port is covered completely, but don't block the opening. If the crack goes all the way through the wall, be sure to seal both sides.
Once the seal has cured — usually after a day or two — you can remove the nails. Use a caulking gun to inject the epoxy into the crack, starting at the lowest injection port. You will know that you've injected enough epoxy when you can see it begin to ooze from the port above. Plug the port and move to the one above it, injecting more epoxy, until the entire crack has been filled. The epoxy usually needs a few days to cure, after which you can use a hacksaw to cut away the tops of the ports.
When to Call a Professional
If, after you repair cracks in walls, they reappear, get bigger, or are joined by cracks in other parts of the wall, ceiling, or foundation, it may be a sign of a larger problem. The structural integrity of your house might be compromised, so it's a good idea to consult a general contractor who can diagnose the cause. He or she may find that you require extensive repairs to the frame or foundation of your home, which are best performed by professionals.
AS FEATURED ON:
AS FEATURED ON:

By: PaulPaladin

Chipping paint is just cosmetic and can easily be repaired.

By: Taweesak Ngamamornpi

Deeper wall cracks may be indicative of a more serious structural issue.

By: Ionescu Bogdan

Sandpaper, which can be used to smooth walls after repairing cracks.

By: auremar

A caulking gun can be a handy too when repairing wall cracks.

By: J and S Photography

Drywall crack repair typically requires a utility knife.

By: zimmytws

Temperature changes can cause a house to settle, which commonly leads to cracks in the walls.

By: akulamatiau

Masonry drillbits can be used to bore holes into concrete walls.

By: simonkr

A hacksaw is one of the many tools you should have on hand when repairing a concrete wall.

By: PHOTOERICK

Deep, vertical cracks in exterior walls may indicate serious structural damage.

By: Radnatt

Joint compound can be used to fill and cover large cracks in plaster.

By: maticsandra

Spackling paste should be sanded down after it dries.

By: Kristina Benter

Spackling compound is often used to fill cracks or holes in walls.