How Do I Plant Cucumber Seedlings?
Cucumber seedlings can be transplanted into a garden rather easily as soon as they have grown their first few sets of leaves. These young plants are very delicate and need to be handled carefully so that the roots, stems, and leaves are not damaged. In order to transplant these seeds, first make sure that the soil in the garden is broken up and well-fertilized. Once the plants are in the ground, they should be kept warm and moist for the life of the plant.
Loose soil that has been well fertilized is best for cucumbers, so it's important to break up the soil in the bed that they will be planted in before attempting to transplant the seedlings. Any type of fertilizer can be used, but manure and plant compost are ideal. The roots of the cucumber plant are relatively shallow, so it is not necessary to break up the soil to a great depth. Transplants will not thrive in soil that is firm, because their roots are delicate and may have difficulty breaking through firm, dry earth.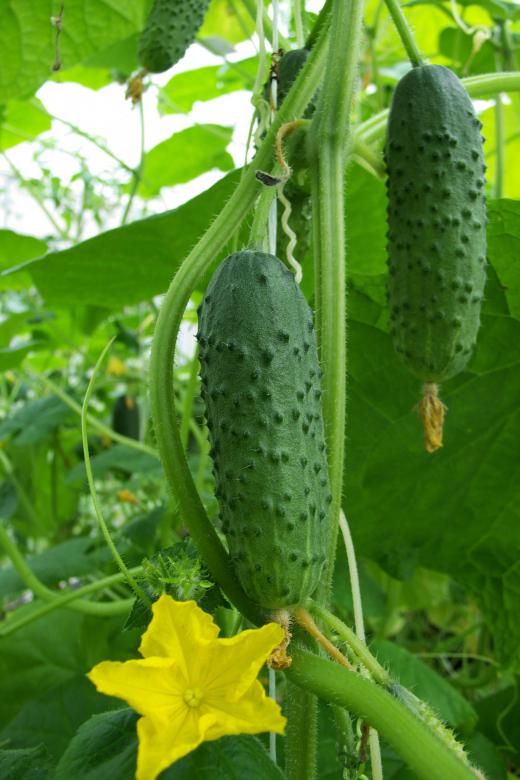 Once the soil is prepared, the cucumber seedlings can be planted in the garden. The stems and leaves of the young plants are quite delicate and should be handled carefully while planting. In order to transfer the cucumber to the garden, dig a hole the same size and depth as the container the seedling is currently in. Turn the cucumber plant upside-down, carefully pull it out of the pot, and then place it in the hole, keeping as much of the original soil around the roots as possible.The soil does not need to be broken up around the roots, even if the plant is root bound.
After the cucumber seedling is in the ground, the rest of the hole can be filled in with dirt. The soil should remain at the same height it was at in the seedling's container. Burying the stem of the cucumber seedling can cause the plant to rot.
In order for cucumber seedlings to thrive, they need to be kept wet and warm. These plants can be grown in the spring when it is still cool but will benefit from ground cover such as mulch that keeps the earth warm around the cucumber's roots. In the summer, cucumbers do quite well but they must be watered frequently. When properly cared for, cucumber seedlings will begin yielding fruit within a few months.
AS FEATURED ON:
AS FEATURED ON:

By: Natalya Korolevskaya

Cucumbers on the vine.

By: Kenishirotie

A cucumber.

By: Boggy

Rather than buying high-cost produce, some gardeners raise organic cucumbers and other veggies in their garden.