How do I Make a Minimalist Living Room?
Minimalist living room design centers on simplicity, clean lines and a lack of clutter. Many of the items found in a traditional living room will be absent in the minimalist style. Throw pillows, knick-knacks, side tables, and lamps are replaced by open spaces and a few utilitarian pieces of furniture. A minimalist living room is generally Spartan in design, but it can still be comfortable and inviting.
Personal tastes dictate the degree of minimalism integrated into the living room design. One commonality among advocates of the minimalist look seems to be the desire for order. A minimalist living room requires far less care than a living room found in the average home. Vacuuming is easy when only a single chair or table needs to be moved. Dusting is seldom required when numerous pieces of art and decorative accessories are eliminated.
Understatement is the hallmark of the minimalist look. Choose furniture that offers visual pleasure and comfort, but include only one or two favorite pieces. Many times a minimalist environment includes solid-colored walls and very few accents. A single rose in a small crystal vase is more fitting than a trickling fountain or revolving disco ball.
An advantage of the minimalist living room is that it suits people who might be on a budget. One or two high-quality pieces of furniture or art can be substituted for mass-produced bookcases, shelves or entertainment centers. The concept of "less is more" should always be first and foremost in the mind of a person planning a minimalist living room
Window treatments and lighting play a large role in minimalist design. Again, simplicity takes precedence over all else. Simple window coverings fashioned from natural materials will generally be preferable to elaborate, floor-length curtains with a valance and ties. Minimalist lighting is usually soft and indirect. The one exception to this rule would be a reading lamp, but even this item may feature a multiple wattage bulb.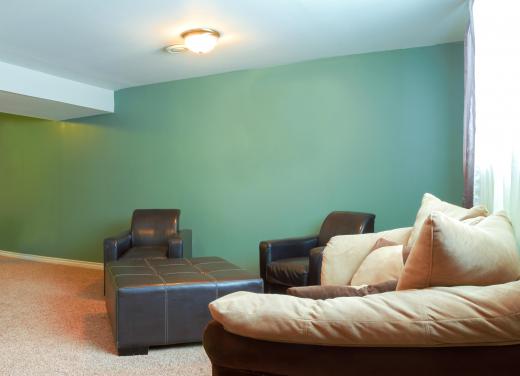 Many people who design a minimalist living room feel it provides an enhanced sense of peace and relaxation. The look is appropriate for those who wish to remove excess from their life and dispense with unwanted "stuff." In many case, the proceeds from selling boxes of stuff at a garage sale will go far toward providing the entire budget to outfit the sparsely furnished room. A final benefit of a minimalist living room is that clean counter space and a few tables makes it difficult to lose one's keys or wallet.
AS FEATURED ON:
AS FEATURED ON:

By: zhu difeng

A minimalist living room is free of clutter.

By: Eric Isselée

A single rose in a vase might make a wonderful addition to a minimalist living room.

By: sergey02

A minimalist living room will have little clutter and typically has solid-colored walls.

By: victor zastol'skiy

People who prefer a minimalist aesthetic may want to buy furniture and paint the walls in monochromatic shades.