How do I Grow a Yucca Gloriosa?
Yucca gloriosa is an evergreen shrub popular in gardens for its hardiness and structural appearance. It can grow as tall as 9 feet (2.7 meters) and features coarse, long green leaves and white flowers in the summer and fall. Yucca gloriosa can be grown from seeds or cuttings, and once established, the plant is easy to maintain.
Yucca gloriosa prefers sandy soil, but can thrive in nearly any soil type. It is drought resistant and requires direct sunlight. It is also cold resistant, but can suffer damage from snow and dampness.
Yucca gloriosa seeds should be planted in pots in a greenhouse. Soaking them for 24 hours in warm water prior to planting can reduce their germination time, which is typically one month to a year. The plants should have a constant temperature of 68 degrees Fahrenheit (20 degrees Celsius) while they are growing, and should be kept in a greenhouse or cold frame over their first two winters. When the seedlings are large enough to handle, they should be replanted in individual pots.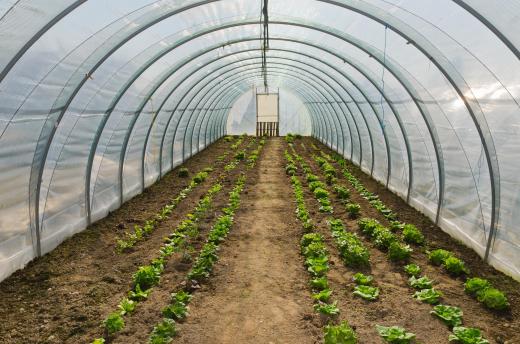 Yucca gloriosa should be planted in its permanent position in early summer, and can benefit from the protection of a glass pane during its first winter outdoors. Root cuttings can be taken in late winter or early spring and used to grow more shrubs. Cuttings can also be taken from the top of older plants, and are usually quick to take root when planted in the summer.
Many people chose to plant yucca gloriosa from root or shrub cuttings, rather then growing it from seed. To plant a potted shrub, dig a hole in the plant's permanent position about twice the size of the root ball and deep enough to plant the shrub at the same depth it was in its container. Gently separate the roots and plant it in the hole, filling it in with soil from its container. Mulch and water well.
Yucca gloriosa should be planted where it can receive full sunlight, meaning sunlight for at least six hours a day. Some plants can thrive in partial sunlight, or sunlight from three to six hours a day. After the shrub is established, it is very low maintenance. It only needs to be watered when the soil is completely dry, but it should be watered slowly for a long period of time so that the water permeates the soil. The soil should be allowed to dry out between waterings.
Besides watering, the only care an established yucca gloriosa needs is the removal of dead and discolored leaves to prevent the spread of fungal growth. Established plants can also benefit from fertilization, which should only be applied early in the growing season. This is a long-lasting, low-maintenance plant that can bring beauty to any garden.
AS FEATURED ON:
AS FEATURED ON:

By: ArenaCreative

Many choose to grow a yucca gloriosa from a yucca root.

By: PHOTOERICK

A yucca gloriosa can be planted in a greenhouse or kept indoors to protect it from cold temperatures during its first two winters.