How do I Find Cheap Carpet?
When your decorating project is on a tight budget, finding good quality, inexpensive carpeting can be a challenge. Fortunately, there are several options that can allow you to secure the floor covering you desire and still keep the cost low. With a little patience and careful consideration, cheap carpet can be yours, sometimes for much less than you ever thought possible.
One of the first places to look for cheap carpet is at your local carpet store. While at the store, there are two possibilities. The first has to do with sales currently taking place. There may be certain brands and colors that are for sale at a deep discount, sometimes as much as 75%. Carpet sales allow you to get name brand carpeting at low prices, provided you can find something suitable from the limited selection.
While at the carpet store, don't forget to ask if they have any discontinued carpet products or perhaps precut carpeting that was returned for some reason. Often, cheap carpet of this type is not advertised, but it is available at a considerable discount off the usual retail price. If there are sections large enough to work in your space, you could pick up new carpeting for a fraction of the original cost.
If the carpet stores don't have anything you like, think about used carpeting. One of the best ways to buy carpet that is previously loved is at yard or estate sales. In many cases, you can find area rugs that have been maintained in excellent condition. If your décor calls for a combination of hardwood flooring and a large area rug, picking up something at a yard sale could save a great deal of money.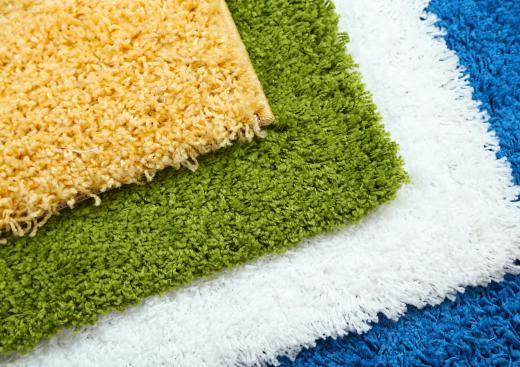 Don't forget to check out carpet remnant stores in your area. You can often buy durable but inexpensive carpeting at these outlets for much less than any other type of retail outlet. Often, the carpeting selections will include discontinued patterns or colors, so the amount of any given brand or design may be limited. Still, there is often enough on hand to create a wall to wall carpet for an averaged size room. In terms of carpet price, there is a good chance you will spend roughly half of the retail price you would pay at a standard carpet store.
There is also the possibility that you could get a cheap carpet by bartering. Essentially, you find someone who has carpeting that will work in your space and supply that person with something he or she needs. For example, you may find that someone living in your town has an area rug that is exactly the size and color scheme you want. In exchange, the carpet owner needs someone to paint the garage. For the cost of your time and a little paint, you get the carpet you want. As a bonus, you help someone else get something he or she needs.
Finding cheap carpet is sometimes quick and easy. At other times, it may take some patience and hard work to find exactly what you want and still stay within your budget. However, by taking the time to investigate all your options, you will eventually find carpeting that is ideal for your home and available for a price you can afford.
AS FEATURED ON:
AS FEATURED ON:

By: JJAVA

One of the best ways to find cheap carpet is at a yard sale.

By: maigi

Finding cheap carpeting requires patience and careful consideration.

By: Africa Studio

One of the first places to look for cheap carpet is at your local carpet store.