How do I Choose the Best White Picket Fence Materials?
Picket fences have historically been made of wood, though more options are now available. Vinyl materials are commonly used to build a white picket fence because they require less maintenance than wood and will generally last longer. They are, however, more difficult to work with during installation. Wood is still a common choice when building a white picket fence, and the type of wood used depends on budget, aesthetics, and desired maintenance. Cedar and pine are two of the most common wood choices for a white picket fence, though the beauty of cedar will be lost upon painting.
Vinyl is a relatively new option for the white picket fence. It is resistant to water, mold, mildew, and rotting, and it can mimic the look of wood fairly accurately. Vinyl can be easily cleaned with a hose and some soap, and it does not need to be painted or stained. Lower end vinyl, however, may turn yellow after prolonged sun exposure, and warping is common as the outside temperature fluctuates. Vinyl can also be somewhat difficult to install, since all the panels and posts are prefabricated and cannot be cut to length during installation. The posts and panels are built to specific tolerances, meaning they can warp or fall apart if installed incorrectly.
Wood is much more forgiving during installation, but it will also require more maintenance than vinyl. When building a white picket fence, you can expect to pay more for wood than vinyl, especially if you choose cedar. Cedar is a great choice for a white picket fence because it is naturally resistant to water, mold, bug infestations, and rot, meaning it will last much longer than other types of wood such as pine. Cedar can be painted white, or it can be left its natural color, which is a beautiful rich red. Pine is a much less expensive option, but it is more prone to warping than cedar and it is not as naturally resistant to rot and moisture.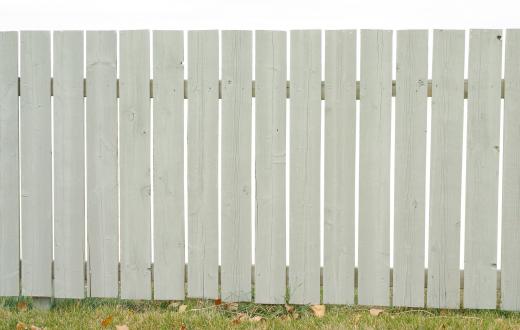 As with any type of fence, the hardware used to construct the white picket fence is vital to the strength and longevity of the structure. Stainless steel or galvanized steel fasteners such as screws and hinges should be used rather than substandard materials that will be more prone to rust and breakage. Any hardware that will be exposed to the elements should be water resistant. Fence posts will need to be sunk in concrete, so be sure to purchase the appropriate amount of concrete for your project.
AS FEATURED ON:
AS FEATURED ON:

A house with a picket fence.

By: Johanna Goodyear

Picket fences have historically been made of wood.