How do I Choose the Best Water Softener Companies?
Hard water does more than just dry out skin. The high levels of calcium and magnesium found in hard water can clog pipes and water heaters, and can leave a thick layer of scum on tubs, walls, and fixtures. Additionally, hard water also reduces the amount of lather that can be produced by soap.
Water softener technology typically reduces or replaces the calcium and magnesium with items like sodium ions. Water softener companies typically install water softener equipment in homes and commercial properties. Such companies also can be involved in the maintenance of an installed water conditioning system. It usually is important to consider your options when choosing which water softener company is best for you.
The first thing you might want to do is to ask water softener companies about the latest advances in water treatment. If a representative of a company cannot explain the difference between a magnetic water conditioner and a salt water softener, they may not be the best company with which to do business. The best companies typically are those that are informed about the latest advances in water-softening and conditioning technology. Water softener companies should be able to explain what your options are, how different pieces of equipment work, and the pros and cons of different items.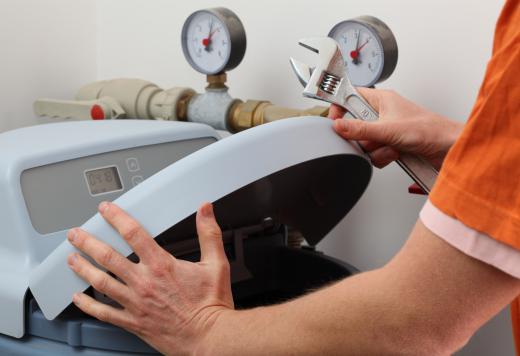 Customers typically should talk water softener companies about the issues they have had with water softener equipment. The representative of the company then should be able to explain how to solve such issues and why the problems occurred in the first place. Professionals in this industry not only will be able to explain why equipment is or is not working, but they will be able to break the information down so that anyone can understand it.
When choosing the best water softener companies, it can be important to ask about the yearly operating costs of using such equipment such as a salt-free water softener. It usually is important to invest in a top-notch water filter, but it also can be important to know what long-term costs are involved with this investment. Reliable water softener companies should be able to calculate this by examining water flow and heat-load numbers.
Once you decide which company you want to use, ask for a written bid. The best groups typically will list what equipment will be used, the length of installation or minor construction, the cost of labor, and the cost of the entire job. It usually is important to keep in mind both the cost of installation and the operating cost, as well.
AS FEATURED ON:
AS FEATURED ON:

By: Hyrma

Water softeners reduce or replace the calcium and magnesium in hard water with sodium ions.

By: Photographee.eu

The best water softener companies will be able to perform maintenance if the water softener malfunctions.

By: Juri Samsonov

Decreased water availability is a common effect of hard water on pipes.

By: verdateo

Some people dislike the taste and feel of hard water.

By: Valua Vitaly

Hard water can make it difficult to produce a lather when bathing or washing.