How Do I Choose the Best Pottery Glaze?
When a piece of pottery has been formed into a shape, the glaze can help to make the piece unique. There are several styles of pottery glaze that can be applied, from very shiny and colorful to matte and rough. Pottery that is made to be used only as a decoration is glazed differently than pottery that could be used to hold food or drink. The best pottery glaze will bring out the beauty in a kiln-fired piece while also providing functional necessities. With the wide range of colors and textures available, most of the decision will depend on the eye of the potter.
Choosing the best pottery glaze begins with deciding on the type of finish. There are several options. Many potters choose a gloss finish that makes the surface of the pottery shine to the point that it is almost reflective. There also is a satin finish that is not quite as shiny as a gloss finish but still provides a broad sheen on the surface. A matte finish is flat and can be designed to show some texture or grain. Finally, there are salt glaze finishes that are irregular and frequently colorful because they are formed by vapors in the kiln.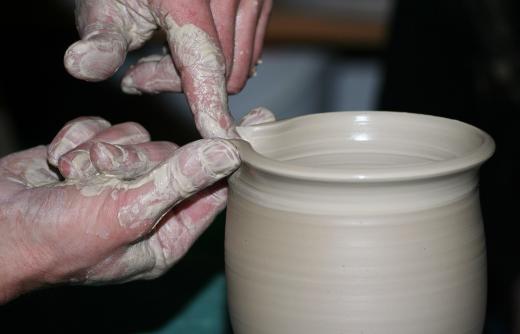 For a simple piece on which the natural, fired color will be rich, a simple, transparent and glossy pottery glaze without any color could be the best option. The glaze will help to protect and strengthen the piece without disturbing the color. Most artistic pieces of pottery can benefit from a colored glaze or a series of layered glazes that can create a unique and complex pattern of colors on the surface.
The best pottery glaze for a given piece also can include special additives that affect the resulting glaze in a number of ways. One of these additives can make the glaze fully or partially opaque. An opaque glaze is good to use when the fired pottery has a mottled color, which can be the case when there are high levels of iron in the clay. The opaque glaze also can be applied only to certain parts of a piece and then glazed over again with transparent glazes to create a layered effect.
Some pieces might benefit from having some type of surface texture on the clay. There are special ingredients that can be added to a pottery glaze that can create a texture when it is fired. These can be simple, such as a raised and rough area, or they can be very complex, such as crystal additives. There is even a type called a celadon glaze that will cause random cracks in the glaze while being fired.
AS FEATURED ON:
AS FEATURED ON:

By: Conny Hagen

Glaze may be added to pieces of pottery to create a unique appearance.

By: Petrov Vadim

Glazes give pottery a glossy finish when fired in a kiln.