How do I Choose the Best Patio Umbrella?
When you are looking for a patio umbrella, the first thing you want to consider is the space where it will be located. You will want to choose one in a size is neither too large or too small for the area where it will be located. You will want to choose a patio umbrella that is approximately five feet (1.52 meters) larger than the area that you want to keep in the shade on bright days.
Once you have an idea of the size of you are looking for, you can turn your attention toward the style and color of the patio umbrella. You may want to choose something in a solid color, in either a muted or bold shade. Some patio umbrellas are made in colorful patterns, and this is an option to consider. You can get one that is very plain in design or one that has a decorative border or fringe. Be sure to consider several options so that you can get the one that will be the best fit for your decor.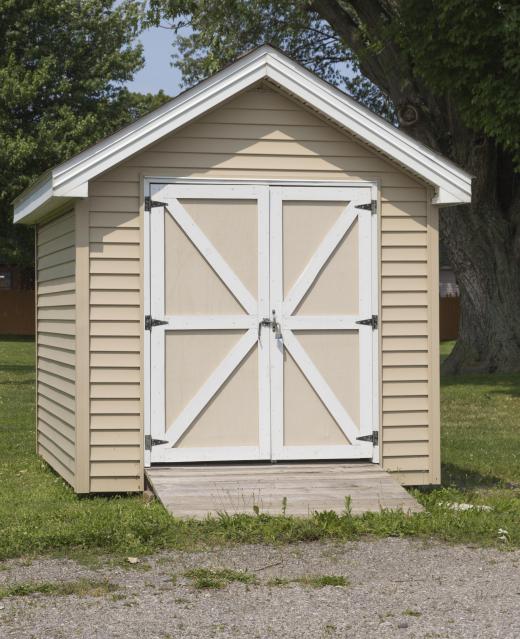 Another factor to keep in mind when looking for a patio umbrella is whether the fabric is waterproof. You may not want to have to take your patio umbrella down after every use in case it rains, and a waterproof fabric would be the best choice. If you have concerns about the weather damaging your umbrella, you may want to put it into a shed or garage anyway.
The patio umbrella you choose should also protect anyone sitting underneath it from UV rays. Be sure to ask the retailer whether the umbrella you are considering has this feature. It's a good idea to find out if the fabric will stay cool under the hot sun, since breathable fabric is a very durable choice.
Any fabric used to make a patio umbrella will likely be mold- and mildew-resistant, but you will want to ask about this as well. The last thing you want is to store it while damp and find that it has been damaged when you take it out during warmer weather. Be sure to ask about any special cleaning or storage instructions before you complete your purchase.
Ease of use is another factor to keep in mind when shopping for a patio umbrella. Consider whether you want to use a crank to raise and lower it or if a push button style would be better for you. If being able to tilt the umbrella at different times of the day is a feature you want, then look for this option when you are considering the different offerings on the market.
AS FEATURED ON:
AS FEATURED ON:

By: fallesen

Families with storage issues may consider purchasing a patio umbrella that can be easily stored in a garden shed when not in use.