How do I Choose the Best Mouthwash Decanter?
Choosing the best mouthwash decanter is largely a matter of finding one made of good quality material that you find aesthetically appealing. Most mouthwash decanters are made of crystal or glass, and the crystal is often more expensive. The price and quality of decanters will vary, largely depending on the company that made the decanter. If you want a simpler, cheaper solution, choosing a mouthwash dispenser may be an option.
For those who like elegance, choosing a decanter is a way to keep your mouthwash handy but without displaying the plastic or glass bottle the mouthwash comes in. A mouthwash decanter almost always comes with a sealable top, and the top often acts as a cup as well. Some decanters come with pumps, but they are typically called mouthwash dispensers instead of decanters.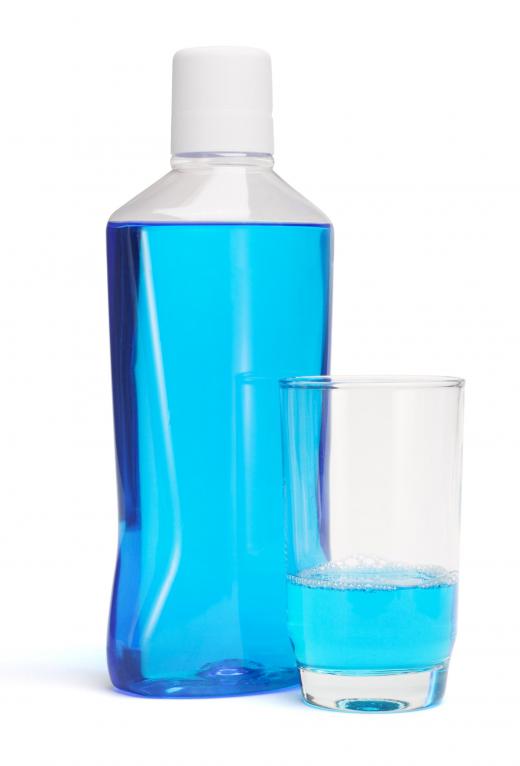 The most elegant type of mouthwash decanter is a crystal decanter. Crystal differs from glass in that it has lead and is a heavier material, usually making it more durable. Unlike glass, light diffracts through crystal, which gives it a sparkling quality. Most crystal mouthwash decanters come with a glass or cork top that fits on top of the lid. The patterns of the cut of the decanter are usually more intricate than glass.
If you want to keep the elegant appearance but prefer a lower price, a glass decanter may be the best option. A glass mouthwash decanter is similar in appearance to a crystal decanter, is often a simpler design. Glass versions are typically cheaper and can be found in many discount retail stores, whereas crystal decanters often need to be ordered from higher end companies or stores that specialize in crystal ware.
A mouthwash dispenser is a cheaper option than a decanter. They come made in a variety of materials such as glass, crystal, steel, and plastic. The shape is similar to a decanter, but have a pump for a top. A simple dispenser might just be a glass container with some disposable cups. Although not as elegant as a decanter, they offer similar functionality and are often easier to use.
Most retails department stores have some type of decanter, and many are available online. If you are looking to purchase other accessories for your bathroom, you may want to purchase your mouthwash decanter as part of a set. That way, you can keep a similar style and appearance without having to worry about matching disparate pieces.
AS FEATURED ON:
AS FEATURED ON:

By: design56

Mouthwash.

By: Igor Gromoff

Mouthwash can be used to reduce oral bacteria that can lead to gum disease, tooth infections and tooth loss.

By: theartofphoto

Some dental experts do not believe that everyone needs to use mouthwash.

By: CandyBox Images

Patients are typically instructed to rinse their mouths with mouthwash following a deep cleaning.