How Do I Choose the Best Heavy Duty Washing Machine?
When purchasing a heavy duty washing machine, either for commercial purposes or home, there are many aspects to consider. You'll need to know what drum size you want, the overall size of the unit, the settings and features, and whether the machine is a front- or top-loader. Other factors to consider are warranties and availability of parts.
Assuming you want a heavy duty washing machine to better accommodate heavy use, drum size is one of the principle considerations when making a purchase. The drum is the portion of the machine in which the clothes are deposited, and it should be big enough to accommodate large amounts of clothes. This allows for more clothes to be washed at once and saves money because less water and detergent are used over time. It can also be necessary to wash extra large items, like blankets and duvets.
Knowing the size of the washing machine is almost as important as knowing the drum size, especially for businesses offering laundry services. Smaller units with large drums may be best, because they can more easily fit in the area designated for the machines. For businesses, this allows more units to fit into a room, which increases the amount of clothes that can be washed at once.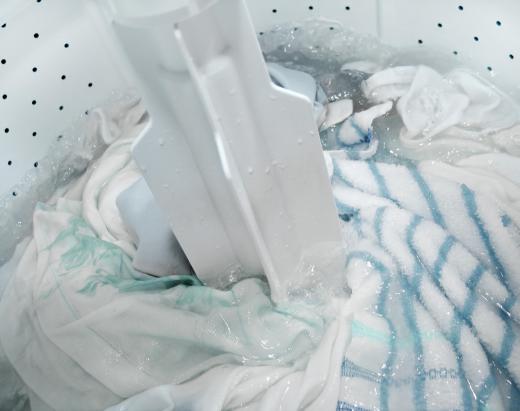 Settings and features are important when buying any type of washing machine. Check for special cycles, pre-treatment options, temperature settings and whether the machine can clean itself. Steam cleaning will help remove stains and offers deep cleaning for clothes. One feature that will help keep resources in check is the automatic dispenser. Such dispensers are used for detergents and fabric softeners and will only function at the appropriate time.
Front- and top-loader heavy duty washing machines are different and serve different purposes. Front-loaders use less water than top-loaders and tend to be smaller in size. Top-loaders are cheaper, allow users to open the lid to add new items after starting the wash cycle and are better for people with bad knees or those who have problems bending down.
Aside from the unit itself, check the warranty offered by the seller. A unit that comes with a one-year or three-year warranty is much better than one with just a 60-day warranty. No one expects a washing machine to break, but it happens; this makes the warranty valuable, because it can protect you against having to spend money to fix the machine. After the warranty expires, repairing the washing machine becomes the responsibility of the owner. Units that do not have many available parts will cost much more to fix than those that do.
AS FEATURED ON:
AS FEATURED ON:

By: tab62

Some consumers prefer top loading heavy duty washing machines because little bending is required.

By: Johanna Goodyear

Heavy duty washing machines can accommodate large items like beach towels and duvets.

By: burnel11

Some washing machines may work better with powder detergent rather than liquid.

By: milkovasa

Front-loading washing machines are more energy efficient.