How do I Choose the Best Greenhouse Base?
The base of a greenhouse has a unique set of requirements and can be a challenge to design. Excellent drainage, sturdy construction, and insulation are all considerations to take into account when choosing the best type of greenhouse base. While materials like wood, concrete, steel, and gravel are frequently used, they work best when combined to form a solid greenhouse base.
Using wood as a frame for the greenhouse base works well because it is sturdy enough to support a heavy structure. Wood is a cost-effective base material and is generally less expensive than galvanized steel or concrete. Consider a naturally pest- and deterioration-resistant wood like cypress, cedar, or redwood, as wood can attract termites or promote rot. Treated woods can release harmful chemicals into the soil and may also break down aluminum framing materials.
For permanent greenhouse structures, including large-scale commercial buildings, concrete is sometimes used as a slab foundation. Concrete greenhouse bases are very sturdy, can support heavy materials like glass and wood, and generally do not need to be replaced or repaired. A base made from concrete can be expensive, however, and does not allow for contact with the ground. In fact, a concrete slab foundation must have drains installed to prevent water build up, which can promote disease and mosquitoes inside the greenhouse. The work involved in digging a level area and adding the gravel and subfloor materials that are necessary beneath a concrete base can be exhausting for the home gardener.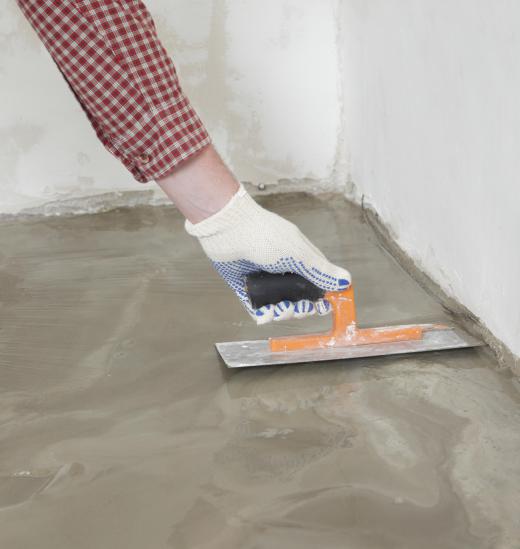 Greenhouse kits are often sold with steel stakes that are meant to be hammered into the ground for temporary structures, making it easy to pull up and store the greenhouse in the off-season. Drainage is also very good in a greenhouse secured with stakes because there is no solid floor to collect moisture. Due to the large surface area and lightweight materials used in store-bought greenhouse kits, they can be susceptible to high winds, however, and can often collapse or tip over if not properly secured. For longer-term uses, some kits recommend using a reinforced base in addition to or instead of the included steel stakes. The easiest way to do this is by securing the greenhouse into a wooden frame.
Though wood is sturdy and inexpensive, when combined with steel anchors or concrete footings, a more permanent greenhouse base can be created. Concrete footings can be made by digging a few holes alongside the frame and pouring the concrete around a bar that is attached to the wooden frame. This saves money because less concrete is used, and it also allows for drainage. Steel anchors, like the stakes found in kits, can be driven into the ground along the sides of the wooden frame and attached with bolts. Once the wooden frame has been anchored, an easy-to-maintain floor of landscape fabric or plastic topped with a few inches of pea gravel will ensure optimum drainage at a minimum cost.
AS FEATURED ON:
AS FEATURED ON:

By: ilyashapovalov

Large, permanent greenhouses usually work best with concrete bases.

By: Lilyana Vynogradova

Concrete greenhouse bases are very sturdy.

By: nito

Gravel is frequently used for a greenhouse base.

By: PHOTOERICK

Prefabricated greenhouse kits often include steel stakes to be driven into dirt.