How Do I Choose the Best Gardenia Fertilizer?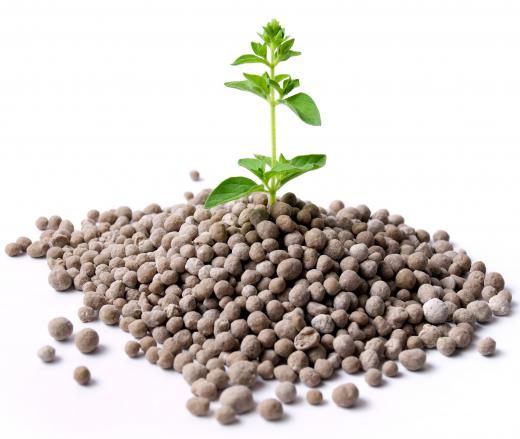 The best gardenia fertilizer contains a high nitrogen content and is designed to stimulate these acid loving plants. Gardenias flourish in acidic soil with high nutrient contents. During the reproductive cycles of the plant, this type of soil can gradually become stripped of its natural nutrients and gradually turn to an alkaline pH. Gardeners can correct this process by adding both acid stimulating compounds and gardenia specific fertilizers to the soil to restore the elements this type of flowering shrub needs to remain healthy.
Gardenias prefer soil with a high acidic content. Gardeners can begin their search for the best gardenia fertilizer by first having the pH balance of their soil tested. Soil with a high alkaline number, which can be in the range of 7 or higher, should be treated with a soil acidifier. This type of solution, which is different than a fertilizer, is designed to add sulfur, iron, copper, and zinc back into the soil. Gardenias which are experiencing nutrient deficiencies tend to stop flowering temporarily and may also exhibit yellow leaves which fall quickly off the plant.
All fertilizers contain a blend of nitrogen, phosphorus, and potassium. Each ingredient is essential to healthy plant growth including flower production, leaf budding, and strengthening roots. Most flowering plants, like gardenias, prefer a blend with larger amounts of nitrogen, to stimulate flower growth and plant reproduction during blooming months. The best types of gardenia fertilizer are typically heavy in nitrogen content, and may contain ratios of 30-10-10 or 6-4-4. The first number in the series represents the amount of nitrogen present, while the second and third numbers indicate the percentages of phosphorus and potassium contained within the mix respectively.
Gardeners who are comfortable using man made compounds in their gardens may prefer a 30-10-10 mix of gardenia fertilizer. This type of substance should be spread around the plant during the flowering months, usually April through November in moderate climates, and watered in thoroughly. The feeding cycle can be repeated every three weeks to encourage additional flower and leaf production. Organic gardeners will benefit from selecting a 6-4-4 type mix which typically does not contain any inorganic ingredients, and is designed to release nutrients into the root system of the plant slowly throughout the entire growing season. This mixture can be applied in early spring at the start of the flowering season, and again in early fall to provide the plant with nutrients before the winter.


By: Sinisa Botas

Gardenia fertilizer should be chosen to meet the specific nutritional needs of the plant.