How do I Choose the Best Freestanding Bathtub?
Your choice of freestanding bathtub will be limited by your budget and the amount of space available in your bathroom. It is important to keep in mind that some freestanding bathtub models will require the floor to be reinforced before the tub can be installed; cast iron tubs are often freestanding, and they are also extremely heavy, so they can do damage to the floor beneath the tub and allow water to seep through cracks. Consider the different options available for a freestanding bathtub and decide which one will be best for you based on the size of the tub and the features available for each type of tub.
A claw foot tub is usually made of cast iron. This freestanding bathtub gives your bathroom a more traditional look, since most claw foot tubs are antiques or modeled after antiques. The feet of the tub are usually quite ornate, adding to the aesthetic appeal. If you are considering this type of freestanding bathtub, you will need to consider very carefully how you intend to get the tub into the bathroom, and whether the bathroom floor can handle the excess weight. Carrying the tub will require several people, and the tub can be difficult to maneuver up stairs and through narrow doorways. Take accurate measurements before committing to such a tub.
More modern freestanding tubs are made of acrylic for water resistance and durability. The designs are seemingly endless, so to choose the best one, you will need to consider size and comfort as well as aesthetics. Not all freestanding tubs are white, so consider the color as well. Sit in each tub you are considering if possible, and choose the one that fits your price range and comfort needs the best. Be sure to think about extra features such as massaging jets or molded seats as well.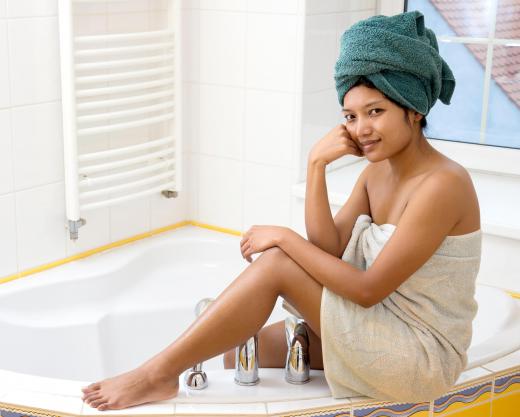 A soaking tub is much smaller and lighter than a claw foot tub, but it is an extremely expensive type of freestanding bathtub in most cases. Several models of soaking tubs feature massaging jets for added comfort, and many homeowners prefer this type of tub for relaxing as well as for cleaning. These freestanding bathtub models do tend to be much smaller than other types of tubs, however, which can be quite uncomfortable for taller or larger people. It is difficult or impossible to lie down or otherwise recline in the tub, so before choosing this type of tub, be sure to try one out at the store and see if it is comfortable enough for you.
AS FEATURED ON:
AS FEATURED ON:

By: Photographee.eu

Make sure there is plenty of room to install a freestanding tub.

By: milkovasa

Some freestanding bathtubs include massaging jets.

By: stormy

Many freestanding tubs are deep enough to allow the entire body to be submerged for a relaxing bath.