How do I Choose the Best Fireplace Hearth?
A fireplace hearth can add a touch of class and beauty to a room, but most importantly, it should add a healthy amount of safety. When choosing the best fireplace hearth, you should consider several factors: safety, aesthetics, cost, and function. The hearth must be made of non-combustible materials should any stray sparks or embers escape the fireplace. It should match the aesthetic of the room and not stand out too prominently from other features of the room. Most importantly, the hearth must be the right size for the room as well as for the fireplace itself; otherwise, the hearth may dominate a small room or get lost in a large one.
The most important consideration when choosing a fireplace hearth is safety. Most cities have codes written specifically for fireplaces, so you must be sure to choose a plan that follows the code for your city. Such codes often include considerations for size, materials, and distance from walls or furniture. Most fireplace hearth plans call for materials such as brick or stone because such materials will not catch fire should the embers stray from the fire. These materials are the best choice for a hearth, but they can also be some of the most expensive. Other materials, such as ceramic, can be placed on top of wooden structures that are insulated to provide a less expensive, safe hearth.
Another consideration when choosing a fireplace hearth is whether or not you want a raised hearth. A raised hearth is set up off the ground, as opposed to a flush hearth, which sits flush with the floor. This is mostly a matter of aesthetics, but a raised hearth is also farther away from combustible materials on the floor, such as carpet. When considering a raised or flush hearth, consider too what will be resting on the hearth. If your hearth will simply contain a fire built from wood, you won't have to think too much about the weight being placed upon it. A hearth holding up a wood stove, however, will need more support and space.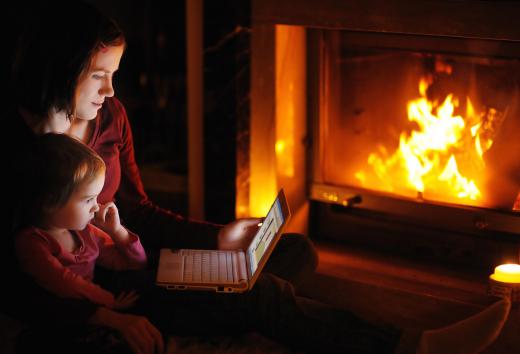 The last consideration for your fireplace hearth involves materials. Bricks and stone are always a good choice because they look good and they are non-combustible, but they can be cost-prohibitive. Slate tiles are a good alternative, but slate takes a bit more effort to install properly, as it often needs to be cut to the proper size. Whatever materials you choose, make sure the materials look good, are non-combustible, and are within your ability to install.
AS FEATURED ON:
AS FEATURED ON:

By: Brad Pict

A slate tile for a fireplace hearth.

By: MNStudio

Fireplace hearths made of stone or bricks can be expensive.

By: nyul

Proper hearth construction is crucial to maintaining the safety of wood-burning fireplaces in homes.