How Do I Choose the Best Countertop Burners?
Kitchen designs sometimes feature countertop burners as well as an oven that is built into the wall rather than a freestanding range where the cooktop and oven are one unit. To choose the best countertop burners, consider the fuel source, the amount of space, the type of cooking that will be done on the burners and the cost. The most common types of cooktop burners are gas and electric. Electric burners can be solid disc elements, radiant heat, halogen or induction elements.
The primary consideration when deciding on the best countertop burners is the type of fuel available. Cost is another important consideration. The cheapest cooktops are electric burners with coil heating elements. These typically are not considered by professional reviewers who rate the different types of cooktop burners.
Some homeowners prefer gas cooktops because they provide instant heat and greater flexibility in controlling the temperature. Sealed burners don't have any effect on the energy use, but they are easier to clean. It is necessary to have a vent above a gas cooktop to release carbon monoxide. All homes with gas-fueled appliances should have a carbon monoxide detector. If your home does not have a vent or cannot have one installed, avoid choosing gas countertop burners.
There are several types of electric countertop burners, so careful consideration of all of their advantages and disadvantages can help you choose the best type, if you prefer electric burners. Solid-disk elements look nice and are easy to clean. They take quite a bit of time to heat up and cool down, so they are not the most energy- and cost-efficient choices.
Ceramic glass and radiant elements don't heat up as fast as coil burners, but they heat up faster than solid discs. The ease with which radiant elements can be cleaned and their energy efficiency are their greatest advantage. The fact that only flat-bottomed pans can be used on these cooktops and their significantly higher cost are the biggest disadvantages.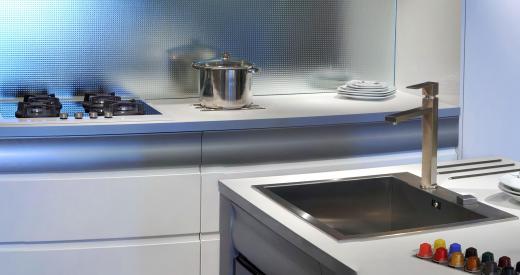 Halogen-generated heating units are similar to radiant cooktops in that there is a solid glass surface separating the heating. The halogen lamps under the glass surface provide the necessary heat. They get hot very fast and allow for greater temperature control and energy efficiency.
Induction heat works because electromagnetic energy is transferred directly to the cookware. The cooktop surface doesn't get hot. Induction cooktops are energy efficient, but they are extraordinarily expensive to purchase. It also is necessary to have specialized cast iron or stainless steel cookware to use on induction cooktops.
You also should consider the amount of space you have available on your countertop. The standard size for gas cooktops is 36 inches (91.4 cm) in width. Electric cooktops often measure only 30 inches (76.2 cm) wide. Professional models might be as wide as 40 inches (101.6 cm).
AS FEATURED ON:
AS FEATURED ON:

By: Tyler Olson

Induction stove tops cook food faster than electric stove tops.

By: corepics

Advantages of gas burners include the ability to rapidly control temperatures.

By: ArenaCreative

Most electric stoves feature heating coils as the cooking surface.

By: Tilio & Paolo

Countertop burners are a good option for kitchens with a built-in oven.

By: Mario Lopes

It is necessary to have a vent above a gas cooktop to release carbon monoxide.

By: krishnacreations

All homes with gas-fueled appliances should have a carbon monoxide detector.