How do I Choose the Best Bathtub Coating?
Homeowners should choose a bathtub coating that is designed for use with the type of tub already in their home, does not use acid etching chemicals, and is available as a spray-on acrylic paint. Bathtub base materials tend to react differently when exposed to refinishing agents, and should only be used in conjunction with products designed to match the original surface and create a beautiful finished product. Coatings which use acid are dangerous and harmful, and should be consistently avoided. Acrylic products are easy to use, dry quickly, and create a glossy appearance which cannot be rivaled by epoxy based chemicals.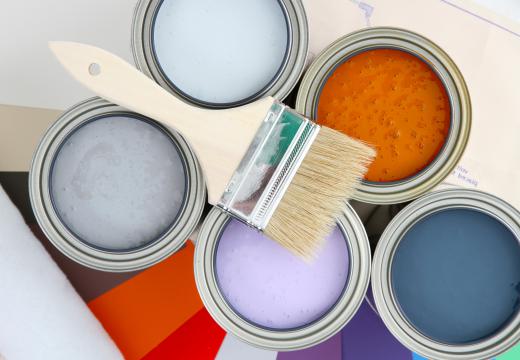 Using a bathtub coating product to repair, reglaze, and revitalize an old bathroom can save money and add value to a home. This project requires a home repair skill level between intermediate and experienced, and can also be completed by a professional contractor for a fee that remains considerably lower than the alternative of replacing the unsightly fixtures. Kits are available for purchase online to refinish the bathtub, bathroom sinks, and any appropriate tile surrounds for determined do it yourself homeowners who prefer to complete the project personally.
Bathtub coating kits are sold according to the type of material used in the tub that requires refinishing. Most bathtubs are made from ceramic, porcelain, fiberglass, marble, or acrylic. The tub may be new with some minor damage, original to the home, or an antique, such as a claw foot tub. If homeowners are unsure of the type of tub already in the home, they may consult with a local contractor who can perform an in home consultation, or to speak with a sales representative from a home improvement store. These representatives can typically determine, based on the homeowner's personal observations and descriptions, what materials were used in the construction of the tub.
Homeowners should avoid using products that contain any type of etching acid. Refinishing a bathroom surface with bathtub coating products require that the original surface undergo a cleaning and preparation process. Strong chemicals are typically used to cleanse the tub of soap scum, mildew, and residual body oils that can mar the finish of the final coating product. The tub is then sprayed with a bonding agent that will cause the new coating to adhere to the old finish. Some products use hydrofluoric acid to scar the original porcelain or marble of the tub prior to the application of the bonding agent to provide the substance a pitted surface for adhesion. This chemical is toxic to those who apply it, both through inhalation and exposure to skin, and can permanently damage the original tub by continuously eating through the porcelain, ceramic, or marble overlay to the cast iron beneath.
Money savings can be found by purchasing kits that provide the bathtub coating as well as a professional strength bonding agent. These kits reduce the margin for error that can occur during the preparation steps of the project. They provide the bonding agent necessary to adhere the new coating onto the old tub, and include detailed instructions for use and application.
Spray-on acrylic bathtub coating products tend to adhere better and create a more uniform look when dry than coatings that require use of a brush or paint roller. Epoxy based paints are thicker than acrylic materials and tend to run or drip during the application process. Acrylic usually dries quicker than epoxy, eliminating the puddle-effect created by the other products. Spray-on cans of acrylic must be applied quickly in sure and steady motions, and can dry to an even, glossy finish that mirrors the original condition of the tub.


By: fotomatrix

Epoxy paint should be applied using the correct paint roller.

By: Rob

Brush paints tend to look less even than spray-on paints when applied to bathtubs.

By: david hughes

Porcelain bathtubs can be refinished with proper tools and procedure.