How do I Choose the Best Basement Paint?
To choose the best basement paint, it's important to get a good quality waterproof product. Light, soft paint colors work well for basements, as they can give the illusion of a bigger, brighter living space. Paint for basements should always be purchased to properly cover the particular material to be painted.
For example, flat latex paint is often the best choice for concrete basement floors. Depending on the condition of the floor, a stain remover suitable for concrete may be used before the primer. After the flat latex is applied in several coats, layers of sealer are often needed to adequately protect the painted concrete floor. Where work is going to be done, epoxy can be an excellent basement paint as it resists grease and oil.
On basement walls, epoxy waterproof and humidity-proof paint can help keep moisture out. Many basements are prone to moisture problems, so a good waterproof paint can resist any leaking groundwater from affecting the home's interior. Quality waterproof basement paint can also help prevent the drops of moisture on walls that may result from humidity. Typically, at least three coats of waterproof paint are needed on basement walls to provide the best protection against moisture invasion.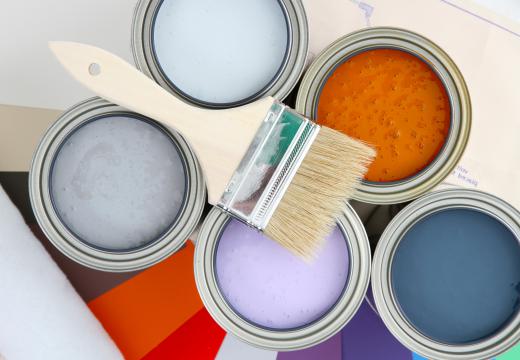 For both floors and walls in basements, durable, non-chipping paint is required. Quality basement paint may be expensive, but maximum moisture protection can prevent much more costly repairs due to water leaks. For homeowners on a tight budget, it's often possible to get good quality paint for basements at a discount price by buying leftovers from professional painters. In taking this approach, several different colors may need to be used to paint the basement, but this doesn't have to be a problem as long as they coordinate well together and are light rather than dark.
Light-colored basement paint in white, pale blue and soft yellow can be especially flattering. These colors can help create a sense of airiness and light in even the dimmest basements. A maximum of three different colors that coordinate well together should be used in a basement space or the effect can look cheap. When choosing the best paints for basements, thinking beyond one color per wall may help transform a plain basement into a more attractive space. For example, painter's tape can be used to create striped areas on basement walls to be filled in with several different paint colors to give them more interest.
AS FEATURED ON:
AS FEATURED ON:

By: beaucroft

Epoxy waterproof paint can help keep moisture out of basements that are prone to moisture problems.

By: Rob

A flat-latex paint can be used to paint basement floors.