How do I Choose the Best Basement Paint Colors?
The best basement paint colors are often light and airy in feeling. This can help counteract the dingy quality that many basements can have, especially below ground level varieties. While dark colors can add coziness to a large basement, some walls painted in a coordinating lighter shade may make the space seem more interesting. Sticking to a color scheme for the basement can help make picking paint colors easier.
If you're not sure what color scheme to use in your basement, look to wood finishes or carpet colors first. The basement paint colors you choose should coordinate well with the other finishes. If possible, take samples of existing colors in your basement that you want to incorporate in a color scheme to the paint store. You can then compare these samples with paint chip cards to create a pleasant color scheme. If you still feel at a loss, consider asking the store clerk to recommend top selling basement colors.
Getting a few different sample size bottles of paint colors you're considering and brushing them onto basement walls or on large pieces of plaster board or cardboard to leave them sit for a few days can give you time to make your final decision. The lighting, or lack thereof, will affect the overall look of basement paint colors, so having large swatches of each color you're considering for walls or floors to examine at different times of the day can be a good idea.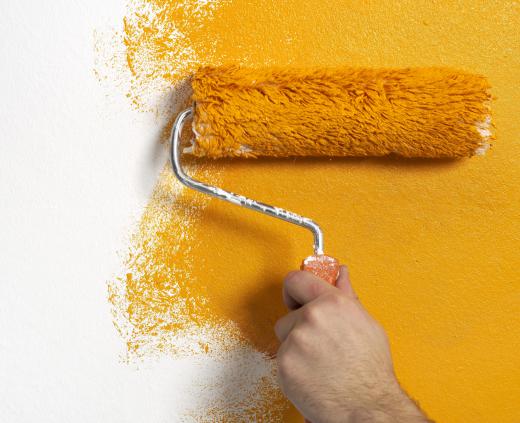 If you've decided on a dark basement paint color you love, don't hesitate in using it. It's often best to use darker basement paint colors on window walls to break up the intensity. This tip can also work well with a bright basement paint color. Consider using a light neutral color for window curtains or blinds.
Rather than painting the whole basement in a single dark or bright color, the end result may be much more attractive if you also use a coordinating neutral. For example, if you want to paint some basement walls red to liven up the space, consider painting others in a lighter neutral shade such as pale gray or light taupe. If your basement is large and you'd like to make the space look cozier, using darker neutral shades can be best. Good quality painter's tape used at wall corners can help make the border between the two paint colors look flawless.
AS FEATURED ON:
AS FEATURED ON:

By: .shock

Blues and greens are considered to be some of the most relaxing colors.

By: mearicon

A person painting a basement.

By: Elenathewise

Since most basements tend to be dark places, consider painting the walls a brighter color that will make the basement look less drab and dark.