How Do I Choose the Best Attic Air Conditioner?
An attic air conditioner may be a small unit that is designed to cool the attic area only, or it may be a type of central heating and cooling unit that provides climate control for the entire home. Choosing the right attic air conditioner requires properly assessing the use of the attic, allowing for the possibility of adding ductwork, and deciding exactly what type of performance is needed from the unit. Along with issues related to the attic itself and the intended use of the air conditioner, the cost of installation and maintenance should also be considered.
If the idea is to provide a simple but effective means of cooling the attic area alone, then a simple standalone attic air conditioner will often be the best bet. Consider units that take up relatively little floor space and come with pans to manage any condensation that may occur during use. If the attic design allows for the use of a duct to serve as a return from outside, this will also help reduce the potential for water damage to the attic itself.
When there is a need to install an attic air conditioner that provides service to the entire dwelling, taking the size of the unit into consideration is very important. Think in terms of the total square footage for the home and purchase a unit that is capable of adequately cooling the space. Make sure the unit is intended for attic installation and includes the type of ductwork that will be necessary to connect the unit with the air vents throughout the home. Typically, these units are very similar to the heating and cooling equipment installed outside a home, but come with additional safety features for venting and managing condensation.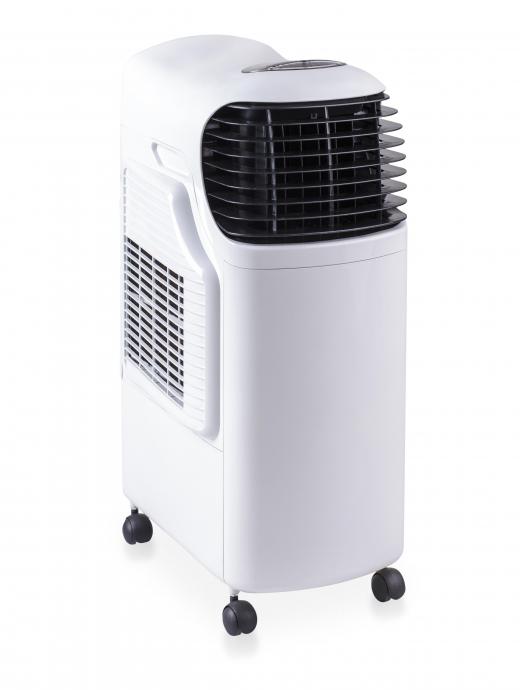 Cost is also important when considering any type of attic air conditioner. For simple units to cool the attic, make sure that the power of the units under consideration are not only powerful enough to cool that area but will also fit well into the budget. Keep in mind that consideration of the purchase price must be balanced with the costs of maintenance and operation. With both single units for attic cooling and larger attic units designed to cool the entire home, making sure that the devices are energy efficient may cost a little more of the front end, but will ultimately mean saving a considerableamount of money over the life of the air conditioner.
AS FEATURED ON:
AS FEATURED ON:

By: dmitrimaruta

Ductwork may be added to a central air system to carry cool air to an attic.

By: venusangel

Some portable air conditioners incorporate evaporative technology, which uses water to cool and humidify an area.