How can I Successfully Grow Mushrooms?
Mushrooms come in a wide range of flavors, shapes, and colors. While many mushrooms can be purchased at a market, it is fun to grow them at home, and it can also be relatively easy, depending on which growing technique you can use. Mushroom cultivation systems can range from large and complex growing rooms to a small log or isolation chamber designed to yield just enough mushrooms for home use. A number of supply houses for mushroom growing tools can be found using your favorite search engine.
The easiest way to grow mushrooms at home is to purchase an inoculated log. A mushroom log is made from a hardwood impregnated with mycelium, the body of the fungus, called "spawn" by mushroom growers because it literally spawns mushrooms. The log is shipped to the consumer, who soaks it in cold water for 24 hours before putting it in a dark, moist place at room temperature. Within a week, mushrooms are ready to harvest, and the log can be reused multiple times as long as the mycelium is not damaged. A mushroom log can be an excellent option for a small household or to educate children about mushrooms in the classroom, and is generally considered to be a no-fail method of growing mushrooms.
If you want to grow a more unusual mushroom, you may want to consider using cake and a mushroom box. Cake is a highly nutritious and balanced substrate specifically designed for growing mushrooms. You can order the cake and spawn to inoculate it with, and then grow mushrooms inside a damp, room temperature chamber which can be quite small: many mushroom boxes fit in a closet with ease. Commercial mushroom boxes are available from many supply houses, or you can build one yourself; make sure to include a source of humidity, and you may want to consider making one from clear material so that you can watch the mushrooms grow.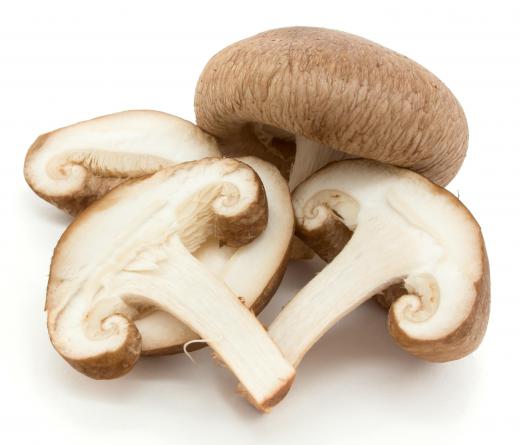 To cultivate mushrooms on a large scale, you will want to start from scratch by making your own substrate. Large cakes are available, but can be expensive: you can make a cheap and usable substrate out of straw or sawdust. Shred the material evenly and then soak it so that it will be moist. Next, sterilize it: many mushroom growers combine these two steps and simply "cook" the substrate in hot water to sterilize and moisturize it. The moist substrate is mixed with spawn which you can order or grow yourself, and then tightly packed and wrapped in clear plastic to form giant mushroom logs. Poke holes in the plastic and keep it in in a warm, fairly dry place until the mycelium becomes clearly visible as a white mass under the plastic. Next, stimulate the mushrooms to grow by raising the humidity, lowering the temperature slightly, and watering the logs to simulate rain. Within one week, mushrooms will sprout through the holes in the plastic, ready to eat.
AS FEATURED ON:
AS FEATURED ON:

By: Aaron Amat

Button mushrooms.

By: Chris leachman

Shiitake mushrooms are a popular, easy-to-grow variety.

By: morchella

Morel mushrooms are often picked wild, but they can also be grown from a kit.

By: Africa Studio

Oyster mushrooms are easy to cultivate at home.

By: Lovelli

It is easy to grow enoki mushrooms.