Hardwood veneer is a wood product made from hardwood, wood which comes from trees classified as angiosperms. Hardwoods tend to grow more slowly than other types of trees, developing very dense, closely grained wood as a result, and this type of wood is prized because of its high quality, durability, and beauty. It is also very expensive to use hardwood, which explains the market for hardwood veneer, a less costly product with some of the same aesthetic benefits as solid hardwood.
Veneers consist of thin strips of wood overlaid across a backing made from less expensive wood products. Hardwood veneer can be installed over plywood, particleboard, and a variety of other products. Veneers can also be used for inlay; for example, thin strips of one type of hardwood might be inlaid into a cabinet made from solid hardwood pieces which come from another species of tree.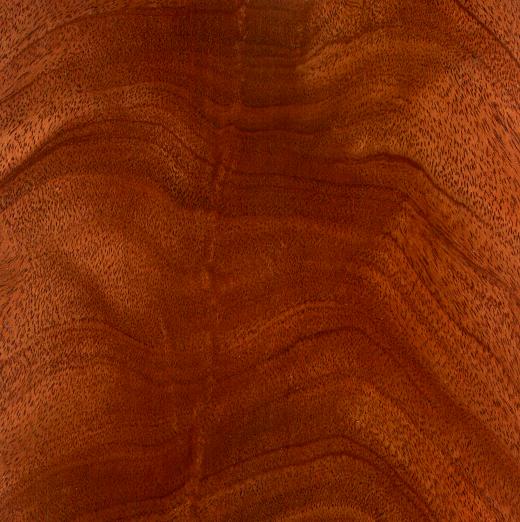 Some common hardwoods which can be used in veneers include: cherry, ebony, mahogany, boxwood, holly, maple, teak, ash, oak, and beech. The veneer can be harvested from the tree by cutting, sawing, or shaving, with the angle of the cut determining the appearance of the veneer. Some veneers are more grainy because they are cut against the bias of the wood, highlighting the natural variations, while others have a more even, smooth appearance because they are cut with the grain.
People can use hardwood veneer for furniture, flooring, inlays, and counters, among other things. The advantage to using veneer is that veneer is less expensive than solid hardwood, and in the case of inlays, utilizing veneer allows people to create patterns with various species and colors of wood. Veneered furniture has a similar look as products made from solid hardwood, at a fraction of the cost, which makes it appealing for people who want a specific look and feel but have trouble affording it.
Sheets of veneer can be purchased from lumber companies and some home supply stores for people who want to apply veneer themselves. Veneer sheets can be used to refinish or rework an existing object, or to finish a freshly completed project, and they can also be utilized for inlays. When working with veneer sheets, people should remember that the two sides of the hardwood veneer often look different, and that veneers come in a variety of finishes, from totally raw veneer to products with adhesive backings for attachment and a finished surface which will face out.
AS FEATURED ON:
AS FEATURED ON:

By: Özger Sarikaya

Mahogany is a common hardwood used in veneers.

By: Aleksey Bakaleev

Oak is commonly used in veneers.

By: Daniel Krylov

Hardwood veneer is commonly used on furniture.