How do I get Cheap Hardwood Floors?
Once eclipsed by carpeting, hardwood flooring has regained its place as a hugely popular flooring option. From bamboo flooring to easy to install wood laminate floor options, wood floors can now be found in just about every room in the house. Best of all, it is possible to get cheap hardwood floors if you know where to look.
The best place to begin your search for cheap hardwood floors is at your local home improvement store. Instead of focusing your attention on the types and grades that are prominently displayed, cast your eyes toward the section where seconds, returns, and discontinued flooring products are kept. Seconds contain flaws that are extremely difficult to detect, but they are often sold for less than half the cost of new products. In like manner, returns and discontinued flooring are also sold for much less than the standard retail price. Just make sure there is enough of the discounted materials to successfully complete your flooring project.
Decorators can be an excellent source of cheap hardwood floors. Flooring that was purchased for a design project and later rejected by the client is often made available at the decorator's cost, or even less. However, there is very little chance that deals of this type will be advertised. Visiting the decorator shop and making a discreet inquiry will let you know if the shop does currently have rejected hardwood on hand, and if they are anxious enough to recoup their losses to sell the wood flooring to you at an equitable cost.
Salvage expeditions are also wonderful ways to go about securing cheap hardwood floors. Check with local salvage yards in your community. You may find a great deal on used but still perfectly usable sections of hardwood flooring for very little money.
Along with salvage yards, check with local demolition companies. They may have an upcoming job where hardwood floors are present in the structure. Often, the company will supply you with contact information for the owner of the property. You may be able to strike a deal with the owner to remove the flooring before the demolition date. While chances are you will pay a small amount for the cheap hardwood flooring, the owner may be happy that someone is interested in recycling the wood and allow you to remove the flooring at no charge.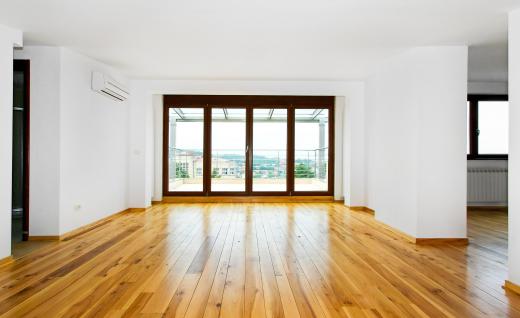 Saving money on cheap flooring will create additional funds that can be used to cover the costs associated with floor installation. However, if you plan on installing the engineered floor sections yourself, the savings can easily be diverted to the purchase of other elements that will enhance the look of your cheap hardwood floors and make your space all the more inviting.
AS FEATURED ON:
AS FEATURED ON:

Hardwood flooring.

By: Maceo

Bamboo is often used to make hardwood floors.

By: Tatty

A house with hardwood flooring.

By: eugenesergeev

Bamboo flooring has become particularly popular in recent years.

By: Wollwerth Imagery

Economical bamboo hardwood floors can be stained to give them a lighter or darker appearance.