What are the Pros and Cons of Interlocking Brick Pavers?
Interlocking brick pavers can add a high aesthetic value to one's home. These pavers are easy to install and are often used by do-it-yourself homeowners. They are strong and considered very weather resistant but are also easily replaced if damaged. Yet pavers can also be problematic due to weed growth between bricks as well as erosion of the sand between the joints.
A type of ground surface often used in patios, walkways and driveways, interlocking brick pavers are especially designed to fit, or interlock, with neighboring bricks, allowing patterns to be created with the pavers. Interlocking pavers are also available in stone and concrete. Installation of interlocking brick pavers is considered an easy job that can usually be finished by a willing homeowner rather than a contractor. The desired area to be paved is dug out to the depth of the pavers, then a layer of gravel and sand is placed onto the surface, and the bricks are placed on top. Sand is then added to the spaces between the bricks for stability.
Many homeowners choose to install interlocking brick pavers because of their low long-term maintenance requirements. Pavers can easily be hosed clean if they become dirty and since most pavers come pre-sealed, sealing is rarely needed after installation. Another benefit of brick pavers is that when one cracks or breaks, it can easily be removed and be replaced with a new brick. This is one factor that many claim makes pavers better than concrete as cracked concrete cannot be so easily and seamlessly repaired.
Weather resistance and strength are two benefits of interlocking brick pavers. Since the gaps in these bricks are filled with sand, they have some level of flexibility. It is natural for pavers to expand and contract during changes in temperature or moisture level. The sand surrounding the bricks allows them to freely move as necessary, avoiding cracking. The sand in between the bricks also gives the bricks greater strength and stability, creating a more reliable surface.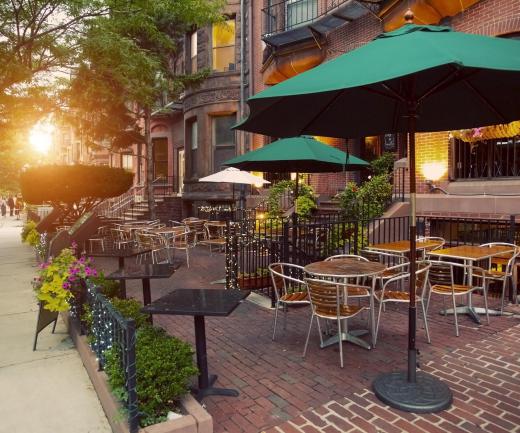 One problem that interlocking brick pavers are faced with is that since the gaps between the bricks are sand rather than solid filler, there is the potential for weeds to grow between the joints. There is also the possibility that joint sand may wear away from regular use or due to wind erosion. Both of these problems can be remedied through stabilizing joints by adding more sand or by adding a layer of sealer to the joints.
AS FEATURED ON:
AS FEATURED ON:

By: Pix by Marti

Weather resistance and strength are two benefits of interlocking pavers.

By: nito

A thin layer of gravel is often used to lay interlocking brick pavers.

By: SOMATUSCANI

Traditional bricks do not allow weeds to grow because the gaps have solid filler.