What are the Different Types of Bathtub Accessories?
From caddies to storage shelves, several different types of bathtub accessories are available for purchase. Some accessories, such as a bathtub pillow, are designed for comfort and relaxation. Others, such as a bathtub tray, are made for practical use, and may come in handy when using multiple bath products.
Some of the most common bathtub accessories are portable, non-permanent fixtures. Usually inexpensive items, these may include helpful aids such as a bathtub tray or soap dish. Accessories such as these are often made of stainless steel, plastic, or other water resistant materials. Some may feature suction cups for an optimal temporary hold, and many are adjustable to fit different sized bathtubs.
One of the most common bathtub accessories is the over-the-showerhead soap and shampoo caddy. These storage shelves allow bathers to have easy access to their toiletries while standing in the shower. They often feature slotted shelves to account for water draining.
Relaxation items make up another category of popular bathtub accessories. Trays designed to hold books are helpful for people who enjoy reading while in the bathtub, while bathtub pillows, loungers, and aromatherapy oil dispensers can help bathers unwind after a stressful day. Magazine racks may also be installed next to the bathtub in order to provide easy access to reading material.
Many consumers add bathtub hardware to their existing tubs. These may be in the form of bathtub faucets, overflow covers, and other stainless steel parts. Many pieces of hardware can be added for comfort and ease, such as toe-touch buttons to operate faucets or air jets. Some homeowners even add specialized lighting or mirrors to their bathtub area. Detachable European-style showerheads are popular pieces of hardware that add convenience to bathing, as well as for washing small children and pets.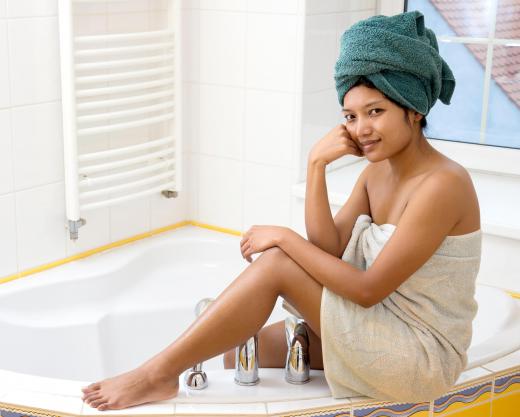 Bathtub stoppers, mats, and nonslip decals come in a wide variety of shapes and designs. Some people opt to install decals with animals or other popular designs to create a theme in their bathrooms. Many of these are sold in conjunction with matching bathtub accessories, such as shower curtains. Other bathroom accessories, from soap dispensers to towel racks, may be available to match certain themes as well.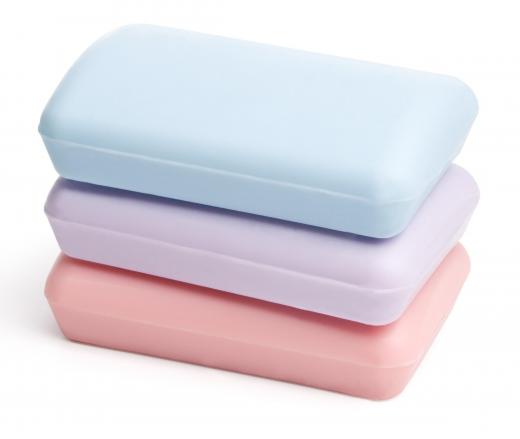 In addition to safety mats and nonslip decals, several other safety bathtub accessories may be installed for those who want or need them. Handgrip rails or safety bars are often installed for the elderly or people with disabilities. Temporary safety bars are available for people recovering from accidents as well. Safety benches and seats are helpful bathtub accessories for people who cannot stand upright in the shower, or have trouble doing so.
AS FEATURED ON:
AS FEATURED ON:

By: Egor Dranichnikov

Soap in a soap dish, a type of bathtub accessory.

By: Offscreen

Towel racks are changeable bathroom accessories.

By: milkovasa

Jetted bathtub accessories can include tub pillows and bathtub heaters.

By: kornienko

Specialty soaps can be included as a type of bathtub accessory.

By: Anton Maltsev

Aromatherapy oil dispensers, candles, and other relaxation accessories can help bathers unwind.