Glycerin is an ingredient in oil and fat used to make translucent soaps. Glycerin soap may be made at home or purchased commercially. The opaque type of soap more commonly sold today has most or all of the glycerin removed; this takes out the moisturizing properties which is why many non-glycerin soaps can be drying to the skin. Soap with the highest amount of glycerin possible is translucent, while soaps with some glycerin are closer to being opaque.
Glycerin soap is sold in many different shapes, colors and scents. It may be round, oval, rectangular or shaped into novelty guest soaps such as flowers and animals. Most of the small guest soaps are more opaque and have less glycerin than the bar soap type. The scents of glycerin soaps include fruits such as peach and strawberry. Lavender and jasmine are common floral scents found in glycerin soaps.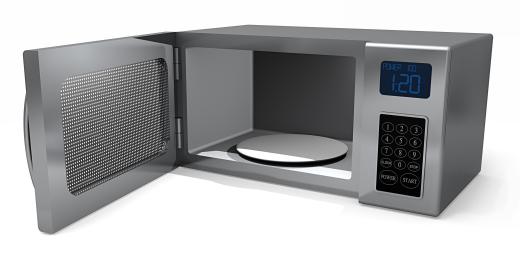 Guest soaps look decorative on a bathroom countertop. They also make great hostess gifts. Some glycerin guest soap types are made in fun shapes for children to encourage them to wash their hands. A glycerin children's soap may be shaped like a car or an animal. Some children's glycerin soaps are just round or bar-shaped, but have different scents such as root beer or bubblegum.
Glycerin is a popular ingredient in shaving soaps because of its moisturizing quality. Some types of glycerin soap have moisturizers and skin nutrients added such as vitamin E and avocado oil. Green or white tea and cucumber scent can also be found in some glycerin moisturizing soaps.
The Pears® brand is the oldest glycerin soap made in the world. Its translucent amber color and oval shape are easily recognizable by many people. The glycerin used in Pears® soap is from vegetable oil rather than animal fat. Soap labels may or may not be required by law to list whether the glycerin is from animal or vegetable sources.
Some people like to make glycerin soap at home. Many craft stores sell a glycerin base for soap making. The soap can be cooked in a double boiler on a stove top or in a microwavable container in a microwave oven. Essential oils, herbs and flower petals as well as a small amount of beeswax are often added to homemade glycerin soaps. The soap mixture is poured into molds, cooled and removed from each mold. Some small home business entrepreneurs make and sell glycerin soap.
AS FEATURED ON:
AS FEATURED ON:

Glycerin soap can be made in a microwave.

By: Nataliia

Glycerin soap.

By: Tarzhanova

Glycerin soap comes in a variety of shapes, colors and scents.

By: Hayati Kayhan

Glycerin is a natural by-product of soap.

By: gmf1000i

Some children's glycerin soap comes in root beer scent.