What is a Landscape Berm?
Landscape berm construction is easy and done for a variety of reasons. A landscape berm can be used for adding interest and height to a specific area. By using mounded soil, dull, flat areas can be given dimension. Berms can also be used for blocking out unwanted views, redirecting drainage, creating privacy, or emphasizing a focal point.
An earth berm is made up of mounded soil; however, many landscape berms often include some type of fill as well. Suitable sources of fill include rubble, asphalt, plant debris, or sand. While there are no specific rules regarding landscape berm design, a typical berm stands no higher than 1 ½ to 2 feet (46 to 61 cm) tall. It is also, on average, about four times as long as it is high. Landscape berms oftentimes take on a curved or crescent shape as well.
Just as with garden beds, proper planning beforehand is essential. The design is usually accomplished much the same too. When creating a landscape berm, its shape should be outlined using flour, chalk, or spray paint. Once the outline is complete, all present grass should be removed. Soil can then be used to slowly build up a sloping mound, which should be tamped firmly as soil is continually added. This is done to prevent air pockets and possible collapse of the berm, which should be solid.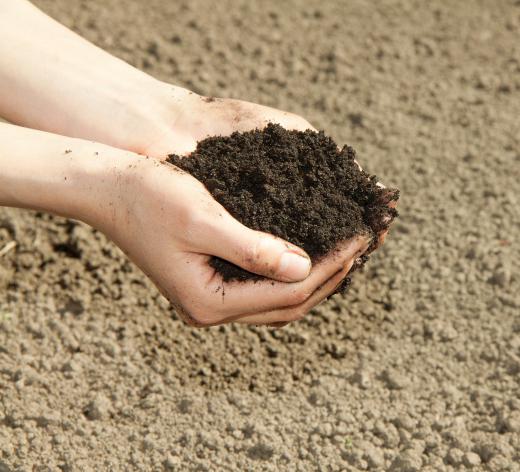 The landscape berm should gradually trail out into the lawn or surrounding area. Since the berm should fit naturally into the landscape, it helps to take not of its appearance as the landscape berm begins to take shape. Landscape berms may have one or more peaks depending on size. However, the peak, or peaks, should be located near one end rather than in the center. This will help the berm maintain a more natural appearance.
Plants are usually added to finalize the landscape berm design. Landscape plants should complement the berm's form much like any gardening design. Choose plants with various colors, forms, textures, and heights for interest. Small trees and shrubs can also be added to the landscape berm. Once plantings are placed, it helps to add some type of mulch, preferably shredded bark. This not only helps insulate plants, but will help keep down weeds, retain moisture, and reduce erosion.
Depending on its overall purpose, attractive edging can be incorporated along the berm's outer edges for additional interest. However, this too should blend in naturally with the surroundings as well as the landscape berm itself. Once the berm is finished, it will add a pleasant addition to the landscape while serving its specific purpose.
AS FEATURED ON:
AS FEATURED ON:

By: Tupungato

Berms can be landscaped with grasses to give them a more natural look and feel.

By: Vasily Merkushev

An earth berm is made up of mounded soil.