What Factors are Involved in Driveway Paving Costs?
There are several factors involved in driveway paving costs, and if consumers plan ahead, it is entirely possible to eliminate the vast majority of them. When a contractor surveys a parking area to determine the overall price, he will look to see what type of shape the actual area is in and how much time would be required to scrape, level, and cover it with rock. Since his entire crew will be on the scene while one person operates a bulldozer and the rest of them stand around and watch, the consumer ends up paying almost double the labor costs for absolutely nothing. To avoid these excess driveway paving costs, it often pays to have most of the preparation completed separately. Of course, the price of the concrete or asphalt is also a major factor when it comes to driveway paving costs, which includes the expense involved with mixing and delivering it as well.
A contractor makes the majority of his profit off of the actual labor when building a new road or parking area, so it is a benefit to consumers to have as much of this preparation completed as possible. This normally averages around 30 to 50% of the total driveway paving costs even though a skilled bulldozer operator can complete most of this work in a relatively short period of time. Often a smart route is to contact a local operator to have him complete the grading beforehand, and the same theory goes for having rock delivered by a local contractor with access to a dump truck. Each item that is completed independently can save the consumer an additional percentage off of his driveway paving costs, so it definitely pays to compare local rates.
Depending on the actual size of the driveway, the choice between concrete and asphalt can often result in a large variance when it comes to driveway paving costs. Concrete will normally last much longer than asphalt and it gives a much cleaner overall appearance, but by the same token, it is also more labor-intensive to pour. Asphalt is made from petroleum products, so its price can wildly fluctuate from one month to the next, but in most situations, it remains the least expensive option. When fuel prices are high, however, it makes complete sense to opt for concrete since the driveway paving costs will be about the same either way.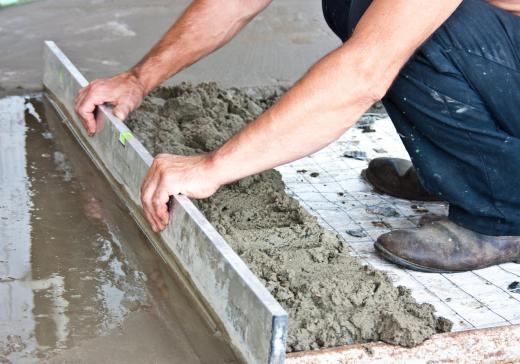 Another method to eliminate many of the conventional driveway paving costs is to complete the parking area in sections. It is common for contractors to have excess concrete or asphalt left over after completing a job, and that excess product normally ends up completely wasted. By contacting a contractor and requesting this excess pavement, it can normally be purchased for pennies on the dollar. In these types of situations, the consumer normally frames and spreads the pavement by himself, relying on the contractor to merely deliver the product whenever it is available. Although this method may require additional work on the part of the consumer and take several months to complete, it can often eliminate up to 80% of the overall driveway paving costs.
AS FEATURED ON:
AS FEATURED ON:

By: forelle66

Asphalt is typically not as long-lasting or clean-looking as concrete.

By: podsolnykh

Driveways and other low-traffic roads may be paved using traditional aggregate concrete.

By: Nicola_Del_Mutolo

Asphalt, the material used to pave roads, can also be used for driveways.